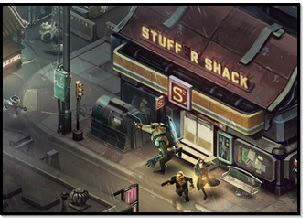 From a popular tabletop roleplaying game, a Stuffer Shack is a late-night street-corner convenience – it's a place where you go to get stuff. From over 100 authors, you will find editorials, tips, downloads, reviews, and ideas to steal for your game.
STUFFER SHACK PRESS – Stuffer Shack has expanded, and we're now publishing professional gaming material (check it out).  Don't laugh… we're just beginning, but we have several things lined up.  And, we are not limiting ourselves to any particular game, game system, or genre.
Newsletter – We send out a monthly newsletter.  It's generally just a quick email hitting on the most important things happening with the Shack (news, special deals, and new releases).  Even if that's not really important to you, you should sign up just for the free monthly drawings (we give away up to $20 DriveThruRPG gift certificates… every month).  Seriously, sign up for the newsletter.
Patreon – We pay writers to write about roleplaying games, and we use Patreon to do it (we are our own first patron).  With Patreon, readers can throw a few bucks into the "tip jar" and they'll get some perks in the process.
We Pay Writers – If you're interested in writing about roleplaying games (and getting paid for it), go for it!  You can read more about that here.
Accessories – If you're looking for our accessories store, we recently closed it down.  We had a good run, but it was time to move on.  Pretty soon we'll have a few tutorials on how to make those Mini Counters and Horse Minis, though.
Thank you for visiting,
Chris Stevens
This website is owned and maintained by Chris Stevens out of Reno, Nevada.  You may contact him here.