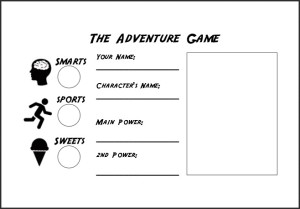 As a long-time gamer and a father of a six year old daughter, I've been wanting to introduce her to role-playing games for a long six years, and although I've tried a couple times rolling dice with her to decide where the story we're telling goes, I hadn't tried running an actual game for her and her friends, until now.
Among many games I have collected through the years that are designed for kids, the top of my list are Hero Kids and backed the No Thank You Evil! game, but all of them have the problem of being combat focused.
Even Princesses and Palaces is designed around combat mechanics.
While Hero Kids worked well with my older nephew, I just can't see introducing my daughter to the world of gaming by essentially telling her that only through fighting can you solve problems in the world.
I realize that you don't have to have combats in any of those games, and in fact, as described here, my nephew actually found ways other than fighting to overcome opponents, but when a game is built around combat, which all of the above games and all others that I have seen are, then you're telling the players that that's what they're supposed to be doing.
This has been my biggest problem with RPGs for kids, especially young ones. I've been waiting for someone to figure that out (and had really hoped that No Thank You Evil might), but no one seems to have done so. So, I created my own.
The Adventure Game is a very simple RPG with a skeleton of rules on one page and a half-page character sheet.
Part of the game comes from Fate Accelerated. The stats are based on the approach taken. There are three approaches the kids can take – do something physical, know or figure something out or try to influence someone.
Another part comes from Apocalypse World's task resolution system. Failing forward is something that works great with kids.
The benny system comes from Savage Worlds, the third of my favourite game systems.
Finally, and notably, there is no damage or wound system. Intentionally so.
The rules are just about providing a framework for story telling with a small group of kids. I offer it now in case you want to try it out over the holidays (download now).
Enjoy and Happy Holidays!