Here are a few kick-starters that I'm backing and that you might want to check out: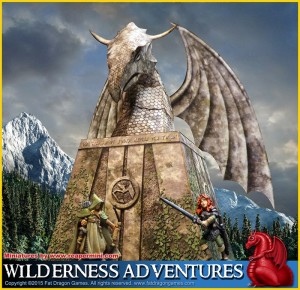 Wilderness Adventures 28mm Scale Fantasy Gaming Terrain (ends Feb 23)
I love Fat Dragon Games' stuff and have backed their kickstarters in the past. This one is for a whole lot of 3D outdoor terrain for your game. For just $60, you can get deserts, swamps, highlands, woodlands, forest ruins, a sphinx, a goblin camp, a volcano, a campsite, tents, tree creatures, a wagon, sci fi textures, a desert oasis, swamp tentacle monster, dragon turtle, dice tower and more as further stretch goals are reached. These pieces will definitely be hitting my game table in the future.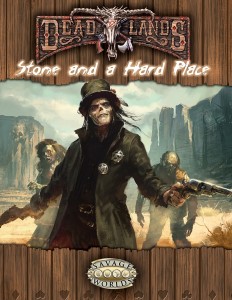 Deadlands: Stone and a Hard Place (ends March 5)
This is the third Deadlands Reloaded Plot Point campaign. While it looks pretty cool, I'm more interested in the extras that I could add to my existing game. Pinnacle's kickstarters are always great deals and should be snapped up when you can. For $20, you get a pdf of the campaign book, which includes expanded rules on playing Harrowed characters as well as the following digital stretch goals: enlarged maps of Tombstone, Tucson and Cochise County, an extra adventure featuring Stone and the Cackler, figure flats pdf and most importantly for me, scaled combat maps of Western buildings and key locations from the plot point campaigns. A great deal, don't miss it!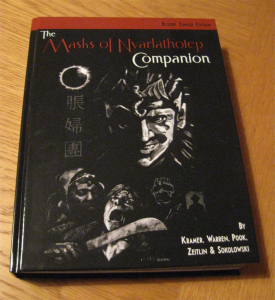 Masks of Nyarlathotep Companion for Call of Cthulhu (ends March 10)
If you're planning on ever running the most famous Call of Cthulhu adventure of all time, this is the kickstarter for you. Well, the second one. The first would have been the Masks of Nyarlathotep Prop Set, but that one is over now. This one is for a comprehensive guide to help you run that amazing campaign and I am very much looking forward to doing just that later this year when I get the finished Companion and Prop Set.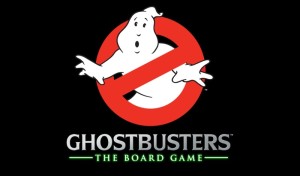 Ghostbusters: The Board Game (ends March 11)
This one is not strictly a tabletop RPG, as it's a board game, but maybe you're like me and are always on the look out for good miniatures and maps for your games. Particularly ones for rare categories. In this case, I'm excited to see some intriguing minis for this board game that would be great props for running InSpectres  (a ghostbusting RPG). This one is expensive though, with a pledge of at least $80 to get the game and stretch goals. For $125, you can get some extra stuff, like more game tiles and… the super-sized Stay Puft Marshmallow Man! I skipped the Conan blockbuster, but this one has some great minis that would be good for other horror settings as well. I love that they describe them as 28mm scale minis, obviously realizing that the RPG gamer market is keen on minis.
Honourable Mentions
I'm not backing these (yet), but caught my eye:
Dungeon Worlds (ends March 4)
Not to be confused with Dungeon World the RPG, this is durable urethane plastic 28mm terrain. It's pretty affordable with a starting pledge of $50 for fifty pieces, but you need to pledge at least $100 to get the stretch goals. It looks good and has many interesting pieces, but I've already invested heavily in Dwarven Forge and prefer buying my terrain pre-painted where possible. Still, very cool pieces.
Time Cellist (ends March 7)
This time-travelling game was created by a couple of the hosts (Megan Pederson and Todd Nicholas) of the Jank Cast Podcast (a round table discussion podcast about gaming). It focuses on kids stopping an evil villain from taking over the world with help from the Time Cellist. I find the concept of the game mechanics (rock/paper/scissors & other kids games) very intriguing, but I'm not big into time travel games, the last one I bought was Pacesetter's Timemaster back in 1985. Nevertheless, I do like their podcast and would like to see the rules. Just $5 gets you a pdf of the rules, so I'll likely cave on this one. As an aside, up until the kickstarter, every time they talked about the game on their podcast I thought I heard them say "Time Chalice" and developed a very different concept of the game in my mind. Now, the Cellist seems odd to me.
Packs! A Fluffy Horror RPG for Savage Worlds (ends March 11)
Finally, what we've all been waiting for, an RPG where you play rats! I guess MouseGuard wasn't enough for the rodent RPG field, now there's a dark Savage Worlds option for all you furry aficionados. I'll stick with MouseGuard personally, but you might want to be a rat. And it is Savage Worlds, so the temptation is always there for me.
Tavern Dungeon Decor 28mm Miniature Scenery Terrain (ends March 31)
I like the look of this and I always love more dungeon terrain, but between Reaper's kickstarter and a few other terrain ones, I have more than enough tavern decor. It's a bit of a saturated market for anyone who's been following the dungeon dressing for a while. This set is pretty cool, and the price is right ($35) if you're looking for such stuff.
If you're backing something cool on kickstarter or have your own kickstarter that you think we should check out, let us know!