Check out the following RPG blogs, then cast a vote for your favorite!

This is day 4 of 4 for Reader Voting of the 2013 RPG Site of the Year contest. We'll post the four finalists on April 22nd, and then the winner on April 29th. So, after you vote (below), come back on Monday to see the finalists!
~ ~ ~ ~ ~ ~ ~ ~ ~ ~ ~ ~ ~ ~ ~ ~ ~ ~ ~ ~ ~ ~ ~ ~ ~ ~ ~ ~ ~ ~ ~ ~ ~ ~
NEARLY ENOUGH DICE PODCAST
– Online since: July, 2011
– Must listen to #1: Episode 80 – With Special Guest Paco Garcia Jaen
– Must listen to #2: Episode 61 – Kidnapped!
Nearly Enough Dice is your weekly geeky catchup on everything that is happening in the world of gaming! Our main focus has always been, and will be RPGs but we cover everything and anything in between! From news, reviews, opinions and advice we cover all that we can in the world of gaming!
TROLL IN THE CORNER
– Online since: October, 2008
– Must read #1: Reality Makes the Best Fantasy: Public Housing
– Must read #2: Cheating is the natural state of play for those cheeky little gits called kids. Here's why that's okay, and why you should embrace it.
Troll in the Corner is and always has been written by a group of enthusiastic gamers. We love tabletop games and will do everything we can to further the hobby and improve the public's access to cool new stuff, from independent games to the biggest publishers out there.
DM FIAT
– Online since: September, 2011
– Must read #1:  Loaded-20: Whedon/Abrams Feud Erupts Over Social Networking
– Must read #2:  Mature Themes in Gaming: Pregnancy
At DM Fiat we strive to expand the reach of Tabletop gaming beyond the stereotypes into a larger, more inclusive community. We believe that:
1: Anyone can Roleplay – We don't exclude noobs, casual gamers, or even people that play differently from us.
2: We should recruit more people into our hobby – Gaming might not be for everyone, but we should extend an olive branch for first time gamers even if they come from unlikely places.
3: Rules are guidelines – When we post articles on DM Fiat, we don't mean to say that our way is the only way to play. We think that no matter how you play, the right way is whichever way is the most fun for you and your group.
The DM Fiat blog features news, industry interviews, tips for players and GMs, and anything else that might wander across our map.
GNOME STEW
– Online since: May, 2008
– Must read #1:  How to Make a Drop Map
– Must read #2:  Deep as a Puddle: Character Ties Cubed (3x3x3)
Written by a team of veteran GMs, Gnome Stew is the most widely read game mastering blog on the planet. We started Gnome Stew because we believe that game masters are under-served in the RPG community. There are few websites and even fewer books dedicated to game mastering — GMs usually get one chapter in a larger work, and that often doesn't address a lot of what we actually do at the gaming table. Since May 2008, we've served up over 1,300 free system-neutral articles and published three books for GMs. Our mission is to help GMs have more fun at the gaming table, regardless of their system of choice, their experience level, or their play style.
GEEK NATIVE
– Online since: 2009
– Must read #1:  Green Ronin survived the theft of $100,000 and now deals directly with George R. R. Martin
– Must read #2:  Villains & Vigilantes RPG creators win legal battle over game
Geek Native is a site for gamers. The premise is that gamers don't just want to talk obsessively about their favourite dungeon crawling orc fighter. As a result, the blog talks about computer games, movies, books and a lot more.  This is good for the industry. It means Geek Native earns an audience from a wide range of people; ex-gamers read the site, people who could become gamers read the site, as well as gamers. This allows Geek Native to recruit people into the hobby. It means publishers can sell new products or Kickstart to people other than their already established fans. Hopefully, Geek Native helps the industry grow.
~ ~ ~ ~ ~ ~ ~ ~ ~ ~ ~ ~ ~ ~ ~ ~ ~ ~ ~ ~ ~ ~ ~ ~ ~ ~ ~ ~ ~ ~ ~ ~ ~ ~ ~ ~ ~ ~ ~
If the poll is not visible, you can vote here!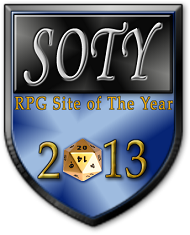 Introduction / FAQ
Prizes
Submissions
Schedule
Rules
Judges