For a limited time, Schwalb Entertainment's cool and new Shadow of the Demon Lord and three supplements are available for a very awesome bundle price.  Get it all here for $9.95, or read below for more info…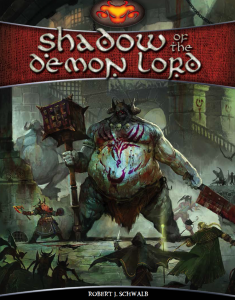 SHADOW OF THE DEMON LORD
The End Is Just the Beginning
Sometimes the world needs heroes. But in the desperation of these last days, the world will take all those it can get: heroes, blackguards, madmen, and whoever else is willing to stand against the coming darkness. Will you fight the demons or will you burn it all down and dance among the ashes? Who will you become when the world dies?
An adventure for starting characters
The killings begin as the drought afflicting the town of Asylum threatens to stretch into another year. Townsfolk, dead and dry as shed snakeskins, their bodies papery and crumbling, turn up night after night. Who or what is killing the good people of Asylum is what the player characters must discover in this adventure. The characters eventually find that it's something living down in the well—which is the one remaining source of water for miles around.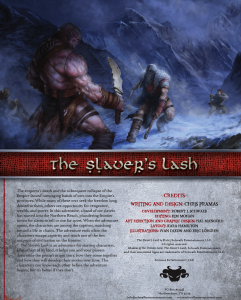 THE SLAVER'S LASH
An adventure for starting characters
The emperor's death and the subsequent collapse of the Empire loosed rampaging bands of orcs into the Empire's provinces. While many of these orcs seek the freedom long denied to them, others see opportunity for vengeance, wealth, and power. In this adventure, a band of orc slavers has moved into the Northern Reach, plundering frontier towns for slaves to sell or use for sport. When the adventure opens, the characters are among the captives, marching toward a life in chains. The adventure ends when the characters escape captivity and reach one of the few outposts of civilization on the frontier.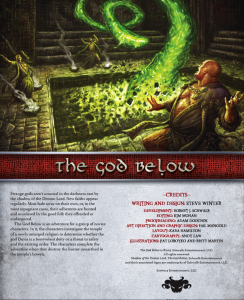 THE GOD BELOW
An adventure for novice characters
Strange gods aren't unusual in the darkness cast by the shadow of the Demon Lord. New faiths appear regularly. Most fade away on their own, or, in the most repugnant cases, their adherents are hunted and murdered by the good folk they offended or endangered.
The God Below is an adventure for a group of novice characters. In it, the characters investigate the temple of a newly emerged religion to determine whether the god Duvia is a benevolent deity or a threat to safety and the existing order. The characters complete the adventure when they destroy the horror unearthed in the temple's bowels.
I especially enjoyed this game through its development, and I'm sure you'll love playing it (ok, I imagine you will).  The bundle cost is $9.95, Saving over $16 (that's like, 62% off, or something, I think).  Anyway, I believe it's available for a limited time… So get it now.

🙂