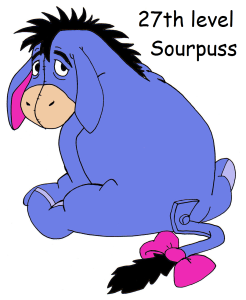 As D&D 4th Edition reluctantly shuffles towards the wings and this brash new D&D NEXT with its fancy sunglasses and latest smartphone comes striding onto the stage, we can expect a new iteration of the RPGA organized play to rise up at home and convention tables alike. Depending on whom you ask, this definitely will be or definitely won't be set in that classic world of Greyhawk, with Iuz and Furyondy and the Grand Duchy of Geoff and the monk-infested Scarlet Brotherhood, among much, much else. After years of Living Forgotten Realms, the prospect of a new gaming world (hey, what about Eberron!?!) probably excites the organized play devotees, but frankly, it leaves me a little cold.
Since you follow my every move with your high-tech spy satellites, you already know that I fulfill most of my gaming needs at regional conventions, previously in the Northern Virginia / DC area and currently in New England, which, despite being saddled with several seasons (most of them winter) and several unfortunate accents (most of them H-less), has a thriving gaming community. All of these enthusiastic gamers crammed into one location means lots of conventions, ranging from the tiny ("Just sit there on the couch, my Mom will get you something to drink") to the cataclysmically gigantic ("Sir, it appears we've lost Hartford to the cosplayers"). And at every one of these conventions, the roleplaying schedules are always loaded, packed, fairly clogged with Living This or RPGA That.
And I hate it.
Now look, I get the appeal of organized play. You, the organized player, want to live with the same character over the course of many actual years, building a history, developing a background, weaving your story into a grand tapestry so much bigger than you. There are events unfolding, world-shaking, government-changing, god-killing events. And there you are, right in the middle of them all, despite having started life as an anonymous sheepherder from the little hamlet of Bumrump. When you raised your father's rusty sword against the wolf attacking your flock, you had no idea that you were taking your first step into an epic tale that would culminate, game decades later, on the deck of a githyanki void cruiser, speeding backwards through time as you battled the Nameless Horror from Beyond.
It's great fun to live and grow with the same character, to wield a weapon that would shame Stormbringer, to accumulate treasure that would stun a dragon, to develop stories that would silence a bard. I feel nothing but blinding envy listening to RPGA members telling stories about previous experiences:
"Were you able to save the paladin?"
"No, we didn't get there in time, but we did still get credit for trying. Did your party trigger that necrotic wall?"
"Oh, that wall, I hated that wall! Every round we took damage, and the enemies were those stupid invisible teleporters!"
"I forgot about them, that was so awful."
These are players who are participating in genuine long-running campaigns, when I'm lucky to shoehorn my deva psion into a handful of one-shots, and maybe even get to see a single level rise.
However, there is a dark side to the RPGA, and that dark side is that it's a closed society, written by and for people on the inside, as exclusive as a yacht club but with fewer ascots. Obviously, this isn't the intention, since you can't exactly grow a community by locking the doors and surrounding the compound with landmines. You want a stream of new people ("fresh blood") coming in every year, spreading your brand and, subsequently, buying your products.
When I review the event listings at the conventions, there are always games that catch my attention, sometimes by the title, sometimes by the blurb, and sometimes by the level (when I foolishly decide I'd really like to play in a 27th level game). Then I realize this game that caused a lovely tingle in my lobes is all kinds of RPGA (Living Forgotten Realms, Living Divine, Ashes of Athas), and I do my best impression of Eeyore: "Looks like a good game. Guess I can't play in it."
You see, I am very much a "go by the rules" kind of person and player, and I know that I don't have an RPGA-approved character that has fought and bled through all the previous RPGA-approved adventures. This means I'll have to either skip the game (which I don't like) or fudge up a character (which I also don't like). If I decide to scrap my paladin-like ethics and fudge a character, that's when I find the character creation rules to be hopelessly complex and opaque, like an instruction manual to build a quantum computer written by an insane alien. Essentially, though not explicitly, they say this: "You really should create a 1st level character, play through a string of RPGA-approved games, until you are at the desired level."
So I scrap my ethics and I fudge my character, because I really want to play in this game. When I arrive at the table, I'm inevitably authenticated by the RPGA-approved Dungeon Master, forcing me to lie to this kind and generous stranger, saying, "Yes, absolutely, I've played this character before, through every one of the previous adventures." And I hate doing that. For one thing, it would really bug me if I were ever caught in my grotesque lie, but for another, I don't want to feel like I'm cheating. All I want to do is play a character, roll some dice, kill some monsters, and have some fun.
I understand the reason for all the rules. In this carefully constructed adventure series, I'm playing a fudged shifter seeker that I'll never play again, so who really cares if he dies horribly? Meanwhile, there you are, across the table, playing your half-elf warlock (actually a tiefling in disguise), who you've brought up from 1st level, who has a rich and involved storyline, complete with allies and enemies spread across the lands. And because I don't care, maybe I set off deadly trap or insult the exposition wizard, just to see what'll happen. Or even worse, maybe when I fudged my character, I ignored or shattered several character creation rules, and now you and I are no longer on the same power plane. How is any of this fair to you?
When the RPGA network decides on a new Living world for D&D NEXT, I can only hope that they will incorporate a set of equitable rules for the one-shot characters that I personally want to play. I'm not interested in committing years of my real life to a single character over multiple sessions, but I really would like to occasionally dip into a few of those good adventures, and not feel like I'm gaming the system to do it. This doesn't seem unreasonable to me.