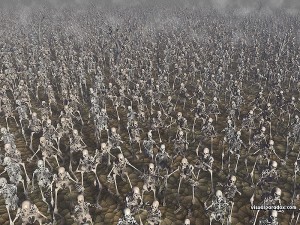 You've been there – we all have.  The fight, just, will, not, stop.  You're thinking, "Man, this fight is taking FOREVER." Yep, I feel your pain.  In this article I'll be talking about how to shorten combat drag – not through the altering of specific system mechanics, but by something that would actually happen (or not happen) in a real fight.
There have been plenty of articles and forum posts about how to mechanically shorten combat by changing the rules.  That's great for some gamers, but for me, it makes me feel that the game is broken.  No, I want a real-world solution (yes I know that it's a make-believe world).  I simply don't want to have to make mechanical changes in order to enjoy a combat encounter.  Here is the single solution that has been working for me for the last few years:
Not every fight has to end with every enemy dead. That's it.  That's my big secret.

This is not a computer game.  PCs don't have to kill every enemy.  That's simply not a plausible solution in most fights.  It's that simple.  Is every
orc
goblin
ogre
kobold
wolf
minion
henchman
bounty hunter
street samurai
dark Jedi
etc., etc., etc.
going to fight to the death?  I don't think so.  Unless they absolutely, positively, have no other choice, they will not fight to the death.  If it looks like their side is not going to win, they will turn tail and run away.  If they can't run away, they will surrender.   Guess what?  The combat is over, the PCs win, and they get full experience points/rewards for winning the encounter.  Done and done.
As the GM, you can have your bad guys run away or surrender at any time.  I suggest you do it when it becomes apparent that they can't win.  Perhaps they are not courageous to begin with and run away after only one or two rounds of fighting.  Maybe you could have them surrender whenever he reaches half hit points or wounds?
Why is this NPC going to fight the PCs?
Is he getting paid?
is he getting paid well?
Is he defending his family, his home, his most prized possession?
Is he bloodthirsty?
Today, is he being lazy?
Is he all bark and no bite?
Does he really care if the big, bad boss gets overthrown by the PCs?
Really, I think it's important to define why an enemy, NPC, or monster is in the fight to begin with.  What is his motivation for fighting? Once you figure that out, you'll automatically know when he stops fighting to either surrender or flee.  Of course, some monsters will always fight to the death, but after awhile, plausibility starts getting strained when every single enemy fights to the death. That's just not roleplaying; that's farming.
As a player, is it a necessity to kill every enemy?  Does the last kobold that turns tail and runs away HAVE to be shot down?  I'm sure others have already gotten away, so it shouldn't really matter.  When you're fighting the big, bad boss, do you think it's possible to get him to surrender, or do you assume that he'll fight to the death?  My players just about exploded with epiphany when they tried to capture the main bad guy halfway through the fight.   "You mean, he agrees to surrender?  I was just trying to roleplay a bit.  Cool!"
I'm sure there are other ways to eliminate combat drag (like using a timer on a player's turn).  What non-mechanical ways to shorten combat do you employ?