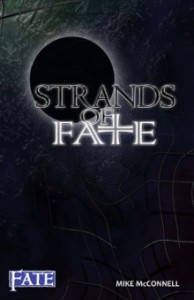 A few years ago, I was sitting at work in the jail as a new-hire.  I was talking with a couple of guys about gaming and they brought up that the next edition of game XYZ was coming out.  The game was taking an entirely new direction, offering all these new, cool options, mechanics, and support.
"Radical!  I can't wait to try it out!  Tell me more about it." I said.
And they did.
And then I said, "Well, what does it do to encourage roleplaying?"
The response I got was, "It completely leaves the role-playing responsibility in the hands of the individual player.  It's up to the player to role-play as much or as little as he likes or is comfortable with."
…Not really what I was looking for.
That was my moment.  That was the moment I realized that I was looking for something different, something that simply fit me better.  Sure, role-playing ultimately falls on my shoulders, but I was looking for a game that helped me with that.
I can make any character out there, play anything, and be anyone, but when I sit down to make my character, roll stats and assign build points, all I'm doing is building numbers, abilities, and powers.  The rest – the history, values, quirks, aspirations, contacts, motivations, enemies, relatives, and so on, I have to fill in myself (as an option).  I know, cry me a river.  My point is that I could make my character and skip all that fluff stuff, and still have a PC to roll dice for (some cookie-cutter character that everyone has seen a million times over).
The problem with that, is that when I actually do take the time to write up my character, with all the idiosyncrasies that come with him, I lose much of those character hooks during play.  No matter how much effort I put into my character, I'll just end up playing
the elven warrior with a chip on his shoulder.
When I sit down to play a character, I want this character's character to come alive.  I want to take on the role of
the resurrected Valenar warrior of legend, upset that his resurrection has stripped him of his immortal achievements.
The warrior who loathes the direction of the Undying Court because they might hold the secrets to his destiny, and are stringing him along for their benefit.
The warrior who, when under pressure, even questions his loyalty to his own morals.
I want to see that character at the table.  Sure, I could probably pull it off at times, but I'm not a strong role-player to begin with.  I'd simply like a game that helps immerse me into my character, which in turn enhances the story.
Well, I found a way, and it's called FATE.  Specifically, Strands of Fate.
Were I to see this book on the shelf, I'd probably pass it by.  It doesn't have the crunch that I normally like.  It doesn't have the tactical combat that I normally like.  And it doesn't have the feel of the traditional RPG that I normally like.
But I like it.
Basically, all those character quirks, values, history hooks, personality traits, and so on, are called Aspects.  In any other game they usually get pushed aside or mostly forgotten;  in FATE, they are the driving force of your character.  They ARE the mechanic.  Aspects drive your PC's actions, affect your dice rolls, and influence his decisions.   Not only will you never forget who your character really is, but you'll make a much more rich and full character to begin with.
So, after a few playtests and one-shots, I sneakily worked on my GM to get him to convert our 4E Eberron game to Strands of Fate.  Never mind that in the beginning, it was I who pushed for us to use 4E for our game.  That doesn't matter.  What matters is that I had found a game where I thought I could finally pull off the character that I wanted.
So, we made our characters last week, and it's one of those things that you should do as a group.  Sure, you come up with the general idea of him on your own, but you really get the most out of it when you're bouncing ideas off of everyone at the table.  I can't tell you how many times one of us was thinking of some concept, some aspect, but couldn't get all the way there.  And then someone else offered up some ideas and you just… the light pops on, and it fits, you know?
One of our players has been playing Malik – kind of a sailor, bard, adventurer, fighter, arcane mix.  In the first few levels of 4E, this character had gone through some mechanical changes simply because the player could never really pin him down.  Well, to end the night of our characters being generated with FATE, this player sort of mused to himself that he was absolutely positive that he had finally "found" the Malik he wanted to play.  He and I could have been the same player, because I felt the exact same way.
I realized then that if I ever rewrite my RPG (we all have one, right?), I'm going to steal shamelessly from FATE.  Hell, I might use the entire damn system – I think it works that well.  In terms of helping you make and play a character that comes alive in-game, there's just no better RPG.
And that is why, for me, FATE is the only real role-playing game.