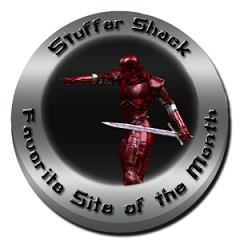 Daily Encounter
started as a useful site, presenting easy to incorporate encounters, often complete with maps and stat blocks. It has blossomed into and incredible resource over the last few months as John Pope has added a number of new designers to his list of authors (a few of which have also been highlighted by KoboldQuarterly.com). Each week they present new and flavorful elements to add to your game, including new themes, feats and terrain elements. Its a must-read for any 4e player or DM.
Here's a summary from the site founder, John Pope:
Daily Encounter is a site that offers a group of 4E DnD enthusiasts an opportunity to share their ideas for the game. Paul (@paulbaalham), Adam (@blindgeekuk), Micheal (@digitaldraco) and myself (@obsidiancrane) all contribute to the site; from DM advice and campaign craft articles to home brew rules (including themes) and Adam's Kickstarter roundups.
Right now the site offers a repository of over 40 encounters (mostly heroic tier), over a dozen homebrew rules elements for DMs (and players) to consider along with numerous editorial articles and even a selection of monsters both new and old. Our one hope is that you enjoy our offerings and have fun playing your game.
-John Pope