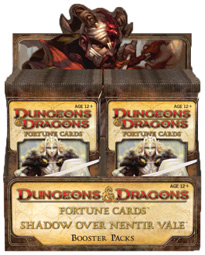 Fortune Cards. You've probably heard of them by now. You may even been sick of hearing about them. My synopsis will be brief.
Coming in February, from Wizards of the Coast, are packs of player character enhancement cards. They're packs of 8 cards, for $3.99. Each card gives a small benefit, similar to the bonuses provided by twitter for D&D Encounters or by some utility and item powers. Examples include a small bonus to an attack roll, or being able to reroll a die. The first announcement came from the Wizards Play Network and, more recently, additional information was given in the WotC January and Beyond article. Wizards has made it quite clear that these cards are options, except in some organized play.
A lot of people have been quite upset about this. They worry about D&D becoming more like a collectible card game, or having an additional cost and a number of other quibbles. The most reasonable arguments against them (a product we haven't even fully seen yet) is that they give more power to the player characters, without a balance on the monster side, and even though they're optional, the fact that they come from Wizards will make it harder for some DMs to say no to players. After all, they're official material.
To the first point, players already have a near overwhelming amount of options. NewbieDM recently put up a post about this. I enjoy NewbieDM's works but what you may be more interested in here is the comments generated. If you have time, take a look. Players have a lot of tools at their disposal, that not only can make it so their characters can be more optimized and effective, but can also make choices in and before the game simply take more time.
The previous link to the January and Beyond article gave me a little more pause. The rules, as presented, mean a player could potentially use one of these cards each round. That's a lot of extra kick to the player's effectiveness. The optimist in me says this might actually speed up combat. If you make a point of using the card in your hand each round (in order to keep getting a new bonus), the player may immediately eliminate a number of choices so that he's only thinking which powers would use the bonus effectively.
The pessimist in me is louder. He says this will just cause players to agonize over their decision more. Should I use this bonus now to get a new bonus, or save it till it would be super effective? Some players might even try to optimize their characters for a particularly rare card they got.
The there's the feeling that because Wizard made the product, you have to allow it. As much as I'd like to be like the Angry DM, whom I can only assume already has a group of Inevitables ready for when a player even mentions bringing these to the table, I'm not. If my players are interested in something, and spend their money on something, I do feel compelled to try to use it in some way.
I don't, however, need to use it as the instructions dictate.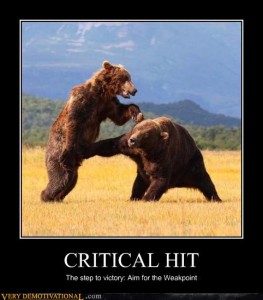 A great example of this was Paizo's Critical Hits Deck. I bought this on a whim, and my players loved it. Designed for 3.x (my version didn't have the Pathfinder revisions),  this product gives your character random, fun effects with flavor and mechanics, each time a players scored a critical hit. The target might be temporarily blinded, scarred and bleeding, and there was even one card that called for decapitation, as long as you were using a slashing weapon. We loved it because critical hits once again became an event. It wasn't just extra damage; something exciting happened.
They could also be quite powerful. Once we got a feel for them, it was time to introduce a house-rule. If the players were making use of the critical hit deck, so would monsters. Not every monster, but important ones. Creatures who would now, in 4e, be considered Elite and Solo threats, as well as named, plot-important characters. My players agreed, and I think this made the game even more exciting. When combat started, I would occasionally say, "this dragon uses the critical hit deck," or even more exciting, when a particular humanoid uses the deck. The players instantly knew that I considered the character important, and there was the threat looming that this character could decapitate a hero at any moment, even if the odds were low.
I've found that the critical hit deck does not translate well to 4th edition. One of my goals, which I simply have not gotten around to yet, is to create something similar for 4e.
Then the optimist in me sees Fortune Cards as maybe the return of this, if done right. There just needs to be some sort of balance. Three solutions have come to mind.
1. Give them to key monsters as well.
Just like my solution for the critical hit deck. If a monster is powerful or important enough, they will also have these options, thus making them a more obvious and meaningful threat. The problem I see here is that the Fortune Cards, thus far, don't seem to be nearly as fantastic as the Critical Hit Deck. They were designed as quick advantages not spectacular feats. Then there's the idea that players get these card every round, while the monsters that also use them would be far more rare. Which brings me to idea 2.
2. Limit the cards use
Instead of giving players one random advantage each round, make it a reward. My main premise here is that spectacular actions produce unforeseen opportunity. These could be used as rewards, a player has a spout of excellent RP, or produces the most amazing MacGyver plan you've heard in a month. They could also happen with critical hits and fumbles that really hurt. The critical hit that saves the party cleric from the brink of extinction, naturally produces a bit of momentum or divine favor for the hero.  On the other hand, when the player accidentally calls the Goblin chief an elephant's bottom, turning the skill challenge into a combat encounter, the surprise of things my turn a mistake into a momentary advantage.
3 Not all Fortune is Favorable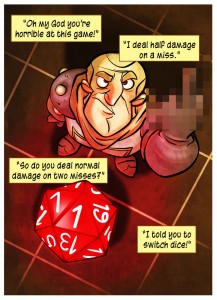 Branching off that idea is that the fortune card may not be a good thing. There is misfortune after all. So the player has a choice when being granted the card – he can take it and hope for a boost, or can refrain and leave his odds where they are.
This works really well, in my mind, with idea #2. Spectacular failure or success, often leads to opportunity. Taking advantage  of this opportunity is a risky business, as tensions and actions are moving at high speed. You could go all-out Drizzt on a group of enemies, or the momentum of that killing blow could leave you flat on your face.
I've always considered Risk vs Reward choices to be one of the main reasons Dungeons and Dragons is so much fun.
These options can lead you to having to make your own cards to replace or supplement the fortune cards. You'll find plenty of card generators online. Twitter recently led me to Go Deck Yourself, which seems to certainly be a viable option. Of course, this means more work for you, the DM.
Then there's the idea that the cards might not just be about combat, but RP and events. We'll leave that for another post.