I've been gaming for years, and in that time my characters or enemies have gotten into many, many fights while riding a mount of some kind (usually a horse). For most gamers, I think that when the fight starts, most of us either forget or gloss over our mounts. This really changed when D&D 4e came out, as we suddenly had several mounts to choose from, and they had actual, usable combat stats (and rules to support mounted combat). Hey, at the very least, a mount lets your character move faster and farther in combat.

So, a couple of years ago I found a way to add mounts to our combat encounters by putting together Horse Minis. They worked out extremely well as they immediately added a new element to the game, enhancing combat and adding tactics (plus, they're cool-looking). And (of course) I started selling them on Stuffer Shack, because they're just too awesome not to share.
After a little while I was able to start providing Exotic Mounts, which complimented the Horse Minis perfectly. They cost a little bit more for me to acquire than the horses, but they fill a cool niche that really brings out that high-fantasy feel. I mean, how cool would it be to ride into battle on a griffon, unicorn, drake, great wolf, or even a freaking bison?!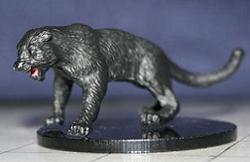 I just made available in our Store a new Exotic Mount, the Tourqen Panther (large-sized, 2-inch base). Brian Liberge thought up the name (I swear), and wrote up a "Steal this Mount" article for tomorrow. This panther is simply too freaking cool. I want to make a new, darker character just so that he can ride into town on a freaking great cat. Personally, my top two favorites are the bison, and this cat.
I have a few other exotic mounts sitting around the office, but I don't think they're cool enough to sell on Stuffer Shack (who wants to ride into combat on the back of a giant goat?
The Tourqen Panther Mount is $6.99 (like the other exotic mounts), and shipping in the U.S. is always free. It comes with sticky tack so that your character will stick to the mount's base securely, and don't forget that tomorrow Brian will post a "Steal this Mount" article for it (including a stat block). It's actually kind of cool.
So, let's give two Tourqen Panthers away!
The Rules:
You'll get a chance to win if you leave a comment below.
You'll get an additional chance to win if you follow @stuffershack on Twitter.
You'll get an additional chance to win if you are a Tourq Stevens Facebook Friend, or a Tourq Stevens Google+… person.
You'll get an additional chance to win if you come back tomorrow and leave a comment under Brian's article, "Tourqen Panther (steal this mount)."
The free giveaway contest ends on Monday (Sept. 12), at 11:59 pm.
Winners will be picked randomly.
I pay for shipping in the U.S. For international winners, I pay for half of shipping, and the winner pays the other half (probably around $3.00 to $5.00). If the cost of shipping is more than $10, that means you probably live on the moon, and you're out of luck (you'll have to pay for shipping).
If you find a way to cheat to increase your chances of winning, well, then you'll increase your chances of winning.
Stuffer Shack Staff are not eligible.
Good luck! And don't forget to come back tomorrow for Brian's article!