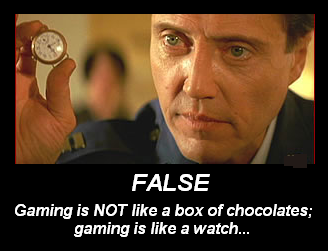 I've been gaming for quite awhile, and I've seen my fair share of various gamers and groups.  Of the several things that make role-playing games fun and exciting, I think diversity in those at the table ranks near the top.  Sure, everyone at the table should have some commonality in how they approach the game, as well as how they draw their fun from it, but variety is the spice of life, right?
Let's take a look at a few things that gamers do differently:
Rules Lawyer:  A Rules Lawyer  is a participant in an RPG who attempts to use the rules to gain an advantage within the game.  In many gaming groups, this is looked down upon as unsportsmanlike (ungamerlike?), and tends to slow the game down.  However, some groups encourage everyone at the table to lawyer-up.  This way, everyone at the table stays honest, has a better understanding of the rules, and everyone (GM included) gets all of the advantages available.
GM Screen:  Some gamemasters like to use a GM screen; others don't.  As far back as I can remember (AD&D?), the GM screen was there to provide tables and charts, and a convenient place to clip notes and images.  Also, as the godmaster… I mean, gamemaster, you could fudge your rolls, and the players would be none the wiser.  On the other hand, many GMs have gotten rid of the screen because it helps connect them to the players, and hey, why roll dice if they're just going to be fudged?  Still, the screen can be a valuable tool for some GMs – how many scenes and encounters have been saved because the players weren't able to see the GM's notes or real dice rolls?
Electronic Products: Ah… the Digital Age.  Regardless of what the PDF has done to or for the gaming industry, you're going to see it at the table.  Electronic role-playing books, dice-rolling apps, and skyping have hit game night.  Some say that it is destroying the game, others say that it is spurning it.  Electronic gaming products are cheaper and more portable, easily updatable, and sometimes easier to reference.  They can also be distracting and yes, are not always easy to reference.  Then, of course, for some it just doesn't feel like an RPG without an actual book to thumb through or actual dice to throw.  And you can't really display your RPG book collection on your bookshelf if they're all digital…
Role-Playing: "Hey GM, I tell him to drop his sword, or else…" "Why are you telling me what your character is

going

to say?  Say it

in-character

!" "Ok, drop your sword, or else… no, wait… I'll just roll Intimidate instead…" In general, everyone plays their character at a level that they are comfortable with.  Some gamers simply prefer to roll some dice and hang with friends; others are there with character hooks, personality traits and voice inflections.  Many say that actually role-playing in role-playing games is an unwritten rule; though others say that it is unwritten for a reason.
And finally… To pass notes, or not to pass?: I've sat at the table and delighted in glee when a note was passed to me.  "Ooh, something on the down-low is going on…"  "My character notices something that the others don't…"  "Cool, right now the story revolves around my character…"  However, when I'm a player and I see others passing notes around, I start to wonder… "What the hell?! Is that damned Thief/Cleric trying to steal my loot?!"  "What the heck is going on?  Is the Fighter getting yet another cool magic item?"  "Yep, he's gonna screw us.  I just know it."  Sometimes it's cool to not know what's going on until the end of a story (Sixth Sense, the movie), and other times, gamers simply don't want to be left out of the story (it is, after all, a cooperative story-telling game).
Someone apologized for passing notes the other day at our gaming table, and it made me think about several of the things that I either do or don't do, that others do the opposite of.   People with commonalities group together, and yet there are so many instances of differing gamers who still seem to make it all work.
The group that I'm in now has seen a recent boon of new players, and to be honest, we've had a bit of a rough start.  Different personalities, different gaming styles, different wants and even different needs came to collision, and it wasn't pretty.  BUT, I think we all looked at what we wanted (ultimately, to have fun) and have each made honest efforts (and concessions) to make it happen.  Our Rippers game has since exploded in a fantastic way, and I'm having more fun than ever.
It makes me wonder about all of those other differences, and if they can be overcome.  From my experience, I say they can.
Gaming is like a box of chocolates – you never know what you're gonna get (but it is gonna be good).
What other things do some gamers do differently than others?  How did it work out?