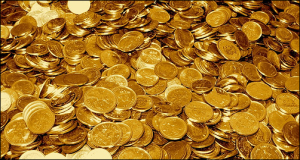 How much are coins worth by today's standards? How much does a bag of silver weigh? What about gold? A magical sword costs how many thousands of gold coins? The local wizard shop has enough money to buy my 50,000 gp +3 Vorpal Blade, right? Is my character really carrying around enough money to fund a small kingdom?!
I have long been confused with how currency works in most fantasy games… "A round of beer costs 1 gold piece?! Really?! What would I buy for 1 copper, then?" "How much did I get for that magical sword?!" "Wait wait wait… I'm level 5, and I'm now in the top 1% wealth bracket?"

If I were to ever make a full-fledged Fantasy setting, I'd offer the following: Copper, Silver, Gold, and Gold Bars. Copper would be the most commonly used currency (12 cp for a day's worth of cheap manual labor / or 1 cp per hour). In this fashion, one could say that a copper piece is worth about $1. So, the poorest of the poor might expect to make about 12 cp per day.
12 cp is very little, but I got that number from a historical text that I once read, so it's not unbelievable. This would represent pay for the poorest of the poor who are still able to find work (of the lowest paying kind).
Want to go buy a tasty hot meal from a vendor at the market or tavern? Expect to pay 5-6 cp. Of course, if you have a family, you're going to need to stretch that 12 cp as far as you can (food, supplies to make clothes, taxes, etc.). A lot of poor families in a fantasy setting (town) would expect to eat grits and thin soup.
Also, I don't expect them to have the money to buy that loot you're trying to offload. That's one reason most games let characters sell off loot at around 25-50% of its value out-of-game.
To make everything easy and smooth, I'd increase the value of the metals by 10:
10 Copper = 1 Silver
10 Silver = 1 Gold
(100 Copper = 10 Silver = 1 Gold)
Adding other metals (like Aluminium, Platinum, or Palladium) just isn't practical. It's not that they're too difficult to process; it's that they would too often get confused with lesser-valued coins.
However, I understand that magic items can be expensive. That is why I would include Gold Bars (actually, Bars and Bricks).
10 Gold Coin = 1 Gold Bar
10 Gold Bars = 1 Gold Brick
(10,000 Copper = 1,000 Silver = 100 Gold =10 Bars = 1 Brick)
And now, for the rest of the story…
Assuming that 1 gp is like a $100 bill, not too many people will be walking around with those in their pockets. So, for a player character to tip the stable boy or innkeeper one or more gold pieces, well, that would be a big deal (especially if you do it often). Everyone in the area would hit you up for services or free hand-outs, and you would quickly get recognized by several, several people in the village or town.
"Hey, did you hear? Kahn the Bard just paid 10,000 gp for a magical cloak, then he tipped Matthias over at the stables 10 gp just for feeding his horse. I know that I only made 5 gp for all of last month's work in the mine, but let's go say Hi. I just know he and I could be friends."
Kahn the Bard: "Hey there innkeeper, I'll have an ale."
Innkeeper: "Sure thing! That's 3 copper pieces."
Kahn the Bard: "Here, take 3 gold pieces."
Innkeeper: "Uhhh… you know that's like 300 copper, right? For a cup of ale?"
How soon in your game before copper and silver currency becomes obsolete?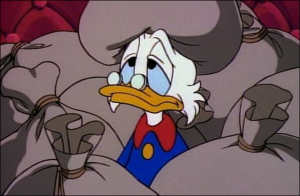 It seems to me that currency in fantasy settings has been relegated to magic-item-use-only. I have actually been told that by several gamers over the course of two decades. "We only keep track of money so we can buy better magic items." I understand that it can be tedious to spend 5 cp on a meal when you're saving up for a 20,000 gp item. I get that. But all that means is that money is indeed there just for purchasing magic items, and I guess that is what my problem is.
I get it. Finding, spending, and selling loot worth thousands of gold is fun and exciting. But it just doesn't work for me. Needing thousands and thousands of gold pieces to buy and sell magic items is an all-too-often unrealistic and overlooked burden. Who can carry that much weight? I'm just not ok with the whole concept. And seriously, why even have copper and silver in the game?
I imagine that at its fundamental nature, most people aren't ok with it, either, which is why many games provide these convenient little magical bags and sacks that can carry a dragon's hoard of coin. That just seems like a band-aid to the problem.
Why is it that fantasy movies and novels (not novels based on RPGs) never depict characters running around on their quests and adventures carrying thousands and thousands of coin in preparation of buying a magic helm, magic armor, magic weapon, a magic belt, a magic cloak, and two magic rings? Because the audience just wouldn't buy into that. As a gamer at the table, I don't I buy into it either.
Why not just fix the issue of currency, so that we don't have to use magic items to try to make it work? Let's put the currency at more reasonable rates so all of the characters in fantasy games aren't always carrying around 50,000 gold coins wherever they go. Even in a fantasy roleplaying game, I find the alternative hard to believe.
So, let's bring this ramble to a close… I have a problem with currency – there doesn't seem to have been a realistic way to approach it thus far. Copper and silver are pointless. Thousands of coins are needed to equip characters of their "needed" magical equipment. And magical, bottomless bags and sacks are the answer to it all, apparently.
Can someone please put me in my place?
My name is Chris Stevens, and I approve this message.