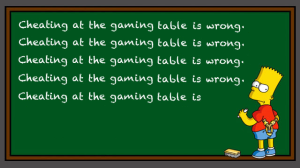 I think just about every gamer has experienced cheating at the gaming table in some form or another.  Heck, cheating at the gaming table is as old as the gaming table itself.  Some of us cheat when making our characters, some of us cheat when rolling our dice, and then some of us meta-game (which may or may not be a form of cheating).  However, I'm contemplating cheating in a way that is either totally inexcusable, or completely justified.  You decide…
In any given game, I can be either an aggressive gamer or a passive gamer.  I get the most joy out of the character when he's full of character, but how I approach playing in a given campaign will make or break my enjoyment.  Ultimately, this is dependent on how much effort I'm putting in with regard to following the story – if I pay attention, everything's great.  If I don't take notes, I have trouble following along, and then I get bored.  I don't know what my issue is – perhaps I'm just lazy?
I get most bored when I don't understand what's really going on in the campaign, so I just trod along acting like I know what's going on.  Hey, there's tons of weird names, it's hard to remember who is who, I miss the plot clues, and then I find myself just wondering when the next fight is.  And, to validate my case, I see it in the faces of the other players as well…
So, I'm contemplating pulling a fast one on the players and the GM – I'm contemplating reading the adventure in its entirety, before we get any further in.
Is that cheating?
Let me defend my position: I'm sure the adventure/campaign is well-written and just fantastic, but it's getting lost on most of us at the table.  Either the story and plot are too smart for us, or we just aren't serious gamers.  Either way, my solution (I think) will help us get through it in a way that preserves fun for everyone at the table – I'm going to read the adventure in its entirety, so that I have all the ammunition I need.  And I will not tell a soul.
I don't need to be "wowed" by the big finale, I don't need to get powerful magic items, and I don't need to be the one who finds all the clues.  I like being there because of all the fun and interesting things that happen spontaneously, often that have nothing to do with the adventure.  It's the interaction at the table between player characters, and also the interaction with the NPCs.
Unfortunately, there are a lot of times when we (as player characters) are lost because we don't understand what's going on.  We could spend hours dealing with some writings on the wall, when really it's just there as decoration.  We could spend hours searching the throne room, interrogating a spy, or chasing some dumb orc, all because we think it's relevant.  Or, we could completely bypass the clue that will effectively take us into the next plot arc.
When there's a lot of things going on, we can forget what our goals are, or not even figure them out in the first place.  Have you or your players ever sat there, dumbfounded, with no idea what to do?  That's us, and that's us often.  That right there is a heavy contributor to our games falling apart.
If I read the adventure – right now – I could alleviate a whole lot of wandering, a whole lot of unfun and confused derailment, and help keep us on the path.  I would know what's going on, and I could use that as a base to help keep the other players focused.  I'm not going to suggest we search "this" particular room because I know that there are some hidden treasures, I'm not going to avoid a certain square just because I know it's trapped, and I'm not going to suggest that we investigate the baron because I know that he's the big bad evil guy;  I want to read the adventure so that I can keep us on track, so that I (we) don't get lost, and so that we don't get bored and start killing peasant farmer NPCs.  I'm not in-it-to-win-it; I'm in it for fun, for all of us.
If "spontaneously" drumming up the answer when everyone else gets stumped and frustrated makes me a cheater, then so be it.  I don't know, what do you think?  And feel free to tear me a new one…
This article originally posted at The Gamer Effect on April 17th, 2013.