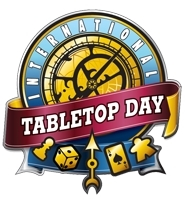 All profits from our involvement with Tabletop Day go directly to the "Are you my mummy" Vijay Copay Fundraiser.
Today is International TableTop Day, and we're taking part!
Dungeon Crawl Classics, 13th Age, Numenera, Hero Kids and Savage World of Solomon Kane are 50% – 90% Off at DriveThruRPG.
There is also have a huge Bundle of FREE PDFs – including the World of Darkness Rulebook from White Wolf, Progenitors from Arc Dream, Firefly: Wedding Planners from Margaret Weis Productions, and more!
Even more Tabletop Day deals…
King of Clubs, Regime, Pairs, Job Hunt and Champion are all 10% – 20% Off over at DriveThruCards.
Judge Dredd Charity Bundle!
Rebellion and Mongoose have teamed up to offer an amazing deal on Judge Dredd titles including Digital Comics and the RPG in support of the Hero Initiative charity.
The Judge Dredd Hero Bundle includes:
Judge Dredd Roleplaying Game – Mongoose Publishing
Mega-City One Archives: The Justice Department – Mongoose Publishing

Judge Dredd: Origins Graphic Novel – Rebellion Publishing


Judge Dredd: Whiteout Novel – Rebellion Publishing
All for only $29.99, a savings of $42.77 (or 59% off the regular selling price) with $5 of every sale going directly to the Hero Initiative! Get the Bundle for only $29.99 here.
The Judge Dredd Hero Bundle will be available until Friday, April 11th!
Vijay is a gamer who has contributed two posts here at the Shack – one was for a contest, and the other was just because he had something to say). He's had a very real medical scare recently and Stuffer Shack is simply trying to help a fellow gamer out.  All profits from our Store and affiliate links will go directly to Vijay – to help with some of his copays, getting gaming stuff, or whatever he likes.  Please consider helping out!