Instead of a regular Kickstarter round up, I'm going to focus in on one of the two kickstarters I'm backing this month. The first, which I won't spend much time on, is the Reaper Miniature Bones III kickstarter. I've backed the two previous ones and this one is again looking to be a blockbuster. Check it out if you like minis and have time to paint them (I don't, but am backing it anyway).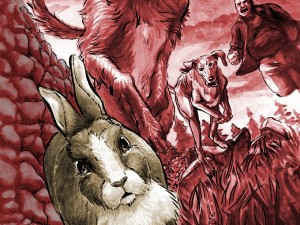 The one I did want to talk about is The Warren.
The Warren is a tabletop role-playing game about intelligent rabbits trying to make the best of a world filled with hazards, predators and, worst of all, other rabbits. It is a game about survival and community.

This game takes inspiration from classic rabbit tales such as Watership Down, Fifteen Rabbits, and Peter Rabbit. It uses a heavily-modified version of the game mechanics from Vincent Baker's Apocalypse World.
I first saw The Warren at last year's Gen Con in the Games on Demand area, but didn't manage to get into a game of it. I loved Bunnies and Burrows ages ago, running it at least a few times. There's just something incredibly enticing about playing actual rabbits, not anthropomorphic ones, but real bunnies facing a harsh world without opposable thumbs.
And, it's Powered by the Apocalypse, one of my favourite game systems. How could I resist?
I found an early playtest and was excited by what I saw, but now this kickstarter is bringing the game to full publication and will also feature at least a couple custom worlds in which to play your furry friends.
I can't wait, only now I have to figure out which of my gaming groups would be willing to indulge me and play rabbits for a change…
The kickstarter ends on August 4th and just $10 will get you the pdf. Check it out!