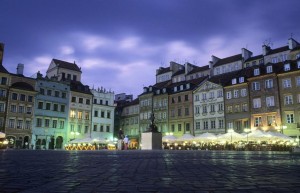 Often when we name a place in a campaign setting, we pick something that "sounds cool," whether cool is an evocative name like "Dark Skull Peak" or just a combination of sounds that sounds neat. While this will usually work fine, if you're trying to make a given fantasy culture feel exotic or foreign, it helps to make the names of things match both the cultural theme and be consistent throughout the region. I've developed two simple methods which result in names that sound like they could be real, but aren't.
First, you need a culture that the locations you're naming are all from. I'll leave the details of creating a fictional culture for another time, so let's just say that the culture in question is based on Poland. Okay, we have this imaginary culture that's "kinda like Poland" and we have say, 10 places that need names which sound Polish without being actual place names from Poland. For this I use one of two methods.
Method One : Translation
For this I use an online translation tool like Google Translate. Just type words or phrases that could be place names and translate them into Polish. Here are a few test translations.

Not everything will translate properly or look and sound good, be prepared to play around with it for a while until you get a few that you like. I usually make more than I need so that I can pick and choose afterward. From the above results, I would only pick "Chata Na Jezioro", "Chata Rzeka" & "Czerwony" to use.
Method Two : Chop & Splice
For this method, we need a map of Poland. Google Maps works well for this. Go to Poland and zoom in until you can see lots of place names for both cities and villages. Copy place names that you like into a text editor. Grab 2-3 times more than you will actually need. The more the better, really. Here's what I grabbed.

Now, the whole point is to NOT use actual place names, so we need to turn this list into a tool for generating names. Review your list and look for any patterns in how the names are assembled. From my list I note that there are several recognizable endings that are used repeatedly, "kow", wice", "ierz", "erz", & there are other endings like "owa", "jow", "kow". Let's split our names into chunks that can be repeated in different combinations. I find doing this in a spreadsheet is helpful, but not necessary. Here's the same list chopped up into lists of beginnings and endings, with both lists sorted alphabetically and any duplicates removed.

Now randomly join beginnings and endings. Here's some that I generated just by rolling a couple of dice, I've coloured the two halves to show the joins.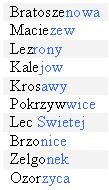 In some cases the names are good to go, "Zelgonek" for instance, while others may need a little bit of attention to flow smoothly, "Pokrzywwice" becomes "Pokrzywice" and "Ozorzyca" becomes "Ozorizyca" for example. With minimal effort you'll have plenty of authentic sounding place names. The more seed name you use, the better results you'll get from this method. Also, depending on the culture you're borrowing from, you may want to break names up into more than just two pieces. Either way, the method holds true.