I like the hobby of RP gaming, partly because I get to hang out with friends, but mostly because I get to experience what it's like to be in an action movie, fighting 'real' bad guys (and sometimes good guys). However…
In the beginning, my combat turn went something like this:
I attack the orc.
I rolled a 19. Does that hit?
I rolled 12 damage.
Later, I moved on to games that added cool combat options and maneuvers – games that painted a more defined visual of what happens in the combat round. They added a tactical element to the game that was exciting and rewarding. But, I was looking for something a bit different, something that really helped tell the story in the combat round.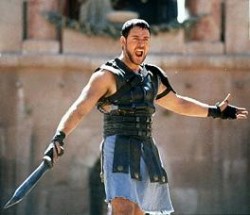 I love action movies, especially those movies with dynamic combat sequences (watch Equilibrium, Ultraviolet, Bloodsport, or Gladiator). I want my combat rounds to look like that. Well, after going through several different types of games, I've found that the game or system is not really going to deliver that (not to my satisfaction, anyway). So, why not create that experience on our own?
Two examples…
I was running a game in which orcs were fighting the PCs in cramped conditions. Everyone was adjacent to two or three others, and the fight was pretty hectic. One orc in particular tried to hit a PC three times, and failed each of those times. On his fourth attack, I opened up by saying, "The orc is freaking pissed off because he hasn't been able to hit you, and you keep jabbing him for little bits of damage. He's clearly enraged, howls an awfully angry growl, and swings at you with his axe – which you block. He then immediately follows up with an elbow across your face, busting your nose and spraying some blood on the cleric. You reel back, and the orc plants his foot into your chest, sending you back into the wall, to which you fall to one knee and drop your sword. As you look up, you see the blood-angry orc towering over you, overhanding his battle-axe downward toward your head with reckless force. Let's see how well he attacks…"
That painted a fantastic picture, adding so much grit and realism to the combat. The player knew that regardless of what I said happened, nothing mechanical happened until I actually rolled to hit (and in fact, the orc missed for a fourth time). The player totally got into it at that point, getting angry over his busted nose and dropped sword. He said, "He missed? Ok, that's because as his battle axe is coming down for my head, I grab his legs. He falls on his back and I end up on top of his chest. I swiftly pull out my dagger and go for the throat. I rolled a…"
Another cool visual, right? What really happened: The player simply made a normal attack using his sword, but his dynamic role-playing was so much better. Remember, nothing mechanical changes. Sure, I said that the PC dropped his sword, and the PC said he then pulled out his dagger. At no point would I allow anyone else access to his sword, unless the player wanted it that way. At any point the PC would be able to pick up his sword, even if he were a few squares away, because nothing mechanical has changed. And the orc, fallen on his back? He can get up without spending any actions, even free actions. He's not even technically prone (unless I, as the GM, feel the player deserves this).
* * *
My Shadar-kai swordmage was able to teleport occasionally as a reaction. In combat, he liked to make charge attacks. So, whenever he did make a charge attack, I might say, "I disappear for a moment, then reappear suddenly right in front of his face. As the soldier flinches back from the surprise (giving me a +1 bonus to hit), I swing my two-handed sword up his chin with only one hand."
Sometimes I would fluff it up by saying that I actually teleported above the target, hitting him on the way down. Of course, this is all simply a charge attack, which normally gives me a +1 bonus. The GM could veto my rendition of my PC's attack, especially if he had something that could interrupt my charge, but that almost never happened. In the end, what matters is that we don't skirt the system; simply follow the rules, but with your own fluff explanation. Also, I don't do this with every action of every round of every character, but just enough to make the scene memorable, tense, and exciting.
* * *
I've been gaming for awhile now, and I think we (as gamers) will eventually either evolve, or simply change. Well, I've changed, and it's definitely been for the better. I wanted to punch up my experience at the table, and one way I've done that is by transitioning into a dynamic roleplayer. I roleplay events and actions; not just my characters. And that is my secret weapon to getting that action movie feel.
Thanks for reading.