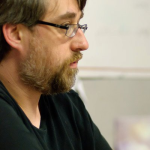 As a guy who has spent much of his gaming existence running D&D games, I suppose it makes sense that monsters get my creative juices flowing. Long before I got into the business, in the days of 2nd Edition AD&D, I scooped up every one of the Monstrous Compendium Appendices for the cool and weird creatures they contained. I'd read those books with the same focus and dedication I showed a novel. I'd pour over their mechanics, pull threads of story from the fluff surrounding the guts, and chuckle at the prospect of dropping a maggot golem or a batch of clockwork horrors into my next game. For me, monsters did more for my imagination than a campaign setting ever did and I looked at them as windows into the possible worlds of my favorite roleplaying game.
My love for the monstrous has not abated now that I make up stuff for a living. I still salivate at the thought of writing demon entries in a monster book, wring my hands about how I should layer in these story threads when confronted with a new or existing monster, and cackle as I come up with some nasty bit of tech that both captures the monster's story and promises to vex even the most cunning players.
As fun as monsters are to design and use in a game, there are some considerable pitfalls too. For a long time, I felt that monsters with magical abilities should have long lists of spells or complex mechanical design. In 4E, it was all too tempting to keep adding entries and stuff to overflowing the action buckets so that it could deal with every conceivable situation. While this could make the monster interesting, more often than not it simply wound up making the creature unplayable in the game. A DM confronted with a page-long stat-block would drown in options and I found I would miss traits or action outputs in play since I would have to sort through the menu to find the thing I needed.
I have had many monster design conversations over the years, but two stand out. The first one was a Wizards of the Coast freelancer panel at Gen Con a few years ago. James Wyatt led a discussion about how to make monsters in 4E more engaging and memorable. Of course, some of the discussion zoomed in on common errors that pop up in monster design, but he brought up a great point about a few monsters in the MM. He pointed to one in particular. While fully functional, the design revealed nothing about the creature's identity, place in the world, or, really, anything to set it apart. You could name the creature a human meat-dancer and no one would be the wiser. The goblins, however, all shared a common mechanical device, goblin tactics, that, in play, reinforced their identity in the game world—tricky, elusive combatants. The take-away from this is that mechanics and story are not separate entities and story should inform the mechanical design for an RPG. Obvious stuff, but in the Ivory Tower of mechanical design, especially for a game with lots of moving parts, it's easy to become lost in the numbers.
The second conversation was with Steve Winter. I was in the office at my borrowed cubical and working on something for D&D Next. Steve, having been steeped in D&D for more years than I should say, has seen it all. I was talking to him about a D&D Cyclopedia game that I ran at a show a couple years ago and told him that I marveled at the game's ease and simplicity. I had cut my teeth on an earlier version of that game (the Red Box), but hadn't really touched it since I "graduated" to AD&D. Steve mentioned that what made that game so wonderful was that to run an encounter with a monster, you needed to know a couple of numbers (AC and HP) and the monster's trick. This idea has stuck with me and I've thought a lot about how awesome it really is. A monster only needs one or two cool things to come to life in the game. When I ask you what's the distinctive thing about dragons, you probably go straight to the breath weapon. When I ask about trolls, regeneration comes to mind. The beholder has eye rays. The wraith drains life force. Skeletons take half damage from piercing and slashing weapons.
That's all these monsters need. Everything else in the stat-block is clutter, mechanical baggage the game system demands for coherency and consistency. Hit points, Armor Class, and if you're playing a game that uses them, Defense/Saving Throws are nothing more than an elaborate timer for how long the monster sticks around. Speed? Damage for attacks the creature is never going to use? Skills? All that stuff just obfuscates the thing that makes the monster interesting. Of course, games like D&D demand these stats, so what I'm saying is heresy I know.
But imagine how much simpler the game would be to run if it just dropped the baggage and embraced what's actually happening in play. A monster's lifespan in combat might be measured in rounds. And the players' efforts might just reduce the number of rounds based on their choices. An attack with a weapon (any weapon) would reduce the rounds by 1. A spell might reduce rounds by its level or half its level if it affects an area. The monster has a very short menu of things from which the GM picks each round. Maybe the dragon lives 10 rounds and can use breath weapon once and natural weapons twice. And when the dragon uses all of its actions, it gets them all back. And then the players and GM describe what happens at the table as a story. You could probably run this without dice, but if you need randomness, a d6 would be enough. Success on a 4 or higher. Boom. Done.
OK. I am stepping back from the ledge. I know this goes way, way too far and probably offends the sensibilities of people who like the granularity of big RPGs. Admittedly I'm one of them too. I like to pretend that the difference between a 16 and 17 AC is meaningful. I cling to the idea that there should be mechanical differences between a battle-axe and a sword. But this was an interesting thought experiment. I'm glad you stuck it out with me. Until next time, roll some dice, kill monsters, and tell awesome stories.