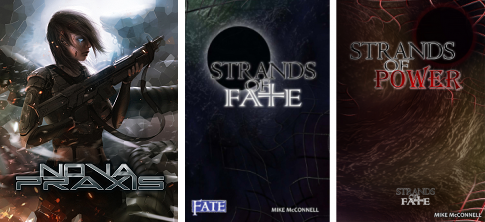 "Nova Praxis is a post-singularity sci-fi setting that explores transhumanism and post-scarcity societies against a backdrop of action, adventure, conspiracy and intrigue…
The types of scenarios Nova Praxis is designed for revolve around shady back room deals, corporate espionage, conspiracy and intrigue. The default assumption of the setting is that the characters are members of a crew of specialists who are able to sort of slip between the cracks in society."
Submit your site for the
2013 RPG Site of the year contest!
I've been looking forward to this hardcover for quite a while.  It's got two of my favorite things: (1) Sci-fi and (2) Fate.  Voidstar has been gracious to award both the hardcover and PDF of NOVA PRAXis, their latest RPG book.  Not only that, but they are also giving PDFs of their first two books (Stands of Fate and Stands of Power) to all five of the finalists!
"Strands of Fate contains everything you need to tell stories of adventure, action, horror, and intrigue set in any genre. Whether it's classic fantasy, urban mystery, dashing super heroes, or far future action, this book is your guide."

The book and PDFs have been donated for our 2013 SOTY contest. Thank you, Voidstar!  They're a great gaming product, and will make an awesome addition to our contest winner's collection.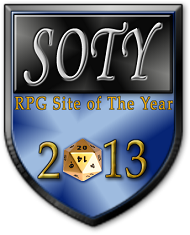 Introduction / FAQ
Prizes
Submissions
Submit your Site
Schedule
Rules
Judges