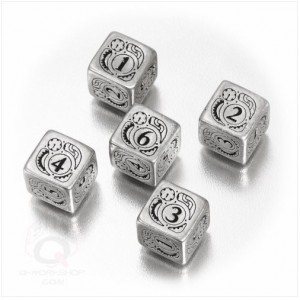 What would role-playing games be without dice?  Well, they would be Cowboys and Indians (a very fun game in its own right).  But there's just something about throwing dice on the table that makes one giggle with delight (or worry with anticipation) that just can't be beat.
To round out the prizes for the 2012 RPG SOTY,

Q-Workshop has donated FIVE sets of their awesome and beautiful dice.  This isn't the first time that they've donated dice to our contests, and I'm sure it's not their last (those elves working over at Q-Workshop are just pretty darn cool).
5d6 Metal Steampunk Dice Set
5d6 Metal Dwarven Dice Set
Forest Dice Set (d4 – d20)
Dragon Dice Set (d4 – d20)
Elven Dice Set (d4 – d20)
What's even cooler is that this time around, of the five sets of dice, two of them are made of metal!  I'll tell you now, I already have a favorite of the bunch – and as prize #8 of the 2012 RPG Site of the Year contest, one lucky winner will soon have five favorites!  Thanks Q-Workshop!

~~~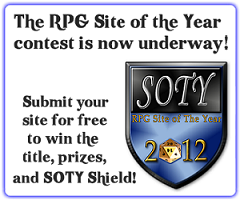 Introduction / FAQ
Prizes
Submissions
Submit your Site
Schedule
Rules
2012 Judges