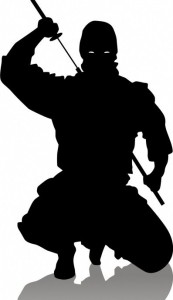 Ninja
Yeah, that's right. We're talking about ninja today. What's that you say? Why not ninjas? Well, because much like deer, the plural of ninja is ninja (in all seriousness, Japanese generally doesn't concern itself with singular/plural). Now, anyone who is into the hobby, enjoys anime, or just likes watching action movies is going to run into ninjas at some point or another. The only problem with this is, depending on your source, there are dozens of kinds of ninja. So, let's take a look to see which ninja will fit the kind of game you want to run.
Ninja in Real Life
Before we look at the fantasy ninja, let's take a look at the real ones. Now, there isn't much to go on here – at least not in the time we have – so we'll take a shortcut here and just go to the dictionary definition. If you want more information, you can always hit up Wikipedia on your own and do some reading there.
That said, dictionary.com defines ninja as such: a member of a feudal Japanese society of mercenary agents, highly trained in martial arts and stealth (ninjutsu), who were hired for covert purposes ranging from espionage to sabotage and assassination.
There is a lot of crossover with shinobi, and most places use the terms interchangeably. Others, however, make distinctions. One of the more common I've seen is sort of like the equivalent between a soldier that works for a Private Military Corporation and one that works for a country. As I said though, such distinctions are varied and really depend on where you look.
The Deadly Shadow
Let's get into the types of ninja. The first and most common type is that of the deadly shadow. This is, essentially, the type of ninja that has a supernatural ability when it comes to stealth. Now, when I say supernatural, I mean super. Batman couldn't pull off some of the stuff that these types of ninja do. This type plays into the spies and assassins story that follows the ninja term around.
These make great additions to campaigns for taking out big NPCs, and to give PCs a reason to watch their six. The method of operation is simple here. If there is a shadow, it could be hiding a ninja. Then, when the time is right, the ninja pops out and murders the heck out of the target. Sometimes they even do multiple targets. For those playing the D20 games, think a lot of levels of rogue for what you're doing here.
The Mystical Warrior
You know what comes in handy when your stealth mission gets botched? The ability to throw fireballs, that's what. This type of ninja has you covered on that. Not only are they a bad ass fighter or stealth monkey, but they can also call upon ancient shadow, arcane, or ninja magic when things get out of hand. The non-magical abilities are usually more mundane here – aside from, of course, when they are augmented by the magical spells that they sling around.
This type of ninja makes for a good villain or other prominent NPC. Generally, the combination of fighting and magical abilities is hard to stat out, but can work out well enough in a big bad boss where people are expecting the rules to be a bit bent. If you're trying to make one as a PC, be prepared for a hard haul. After all, you need fighter, rogue, and mage abilities all wrapped into one. You can drop mage if you're willing – and able – to acquire a whole ton of scrolls, and your GM allows "use magic item" to work for them.
The Super Soldier
The third of the key types of ninja is one of the favorites to use when the ninja is the protagonist. After all, it isn't always that much fun to have your hero skulk around in the shadows and take everyone out without them even having a chance. However, having them brazingly walk into a room full of goons and taking them all down? That's bad ass. That is also just what this type of ninja is. When stealth fails (and they are still usually somewhat stealthy), these ninja open up a can of whoop-ass the size of Texas and go at it.
Unsurprisingly, this is also one of the best type of ninja to have as a PC. You're still multi-classing in D&D type games for fighter abilities and rogue abilities. These also make wonderful enforcers for villains – think Storm Shadow in the early G.I. Joe years – and someone who can be a scary recurring character that shows up to give the PCs a good fight every few plot arcs.
Wonderful Combinations
Most more recent depictions of ninja use a combination of sorts. The movie "Ninja Warrior" seemed to like the "Deadly Shadow" and the "Super Soldier" combination. Meanwhile, the Ninja Gaiden and Shinobi game series seem to go the "Super Soldier" and "Mystical Warrior" paths. I've seen a few "Mystical Warrior" and "Deadly Shadow" combos, but at the moment I can't think of where. Still, don't be afraid to combo up for a more bad-ass or unique ninja.
Modern Technology
Some places will tell you that a true ninja – and thus, a protagonist ninja – does not rely upon things like modern technology and guns, because all they need is their ninja training and the traditional weapons of the ninja. Others, show a more pragmatic ninja that is perfectly capable with sword and bow, but also not afraid to use guns. In at least one case, this is actually one of the things that makes the character a huge fan favorite (yes, I'm talking about Snake Eyes from G.I. Joe). So, really, don't be afraid to go either way with your ninja.
So, I guess the only question here is, what kind of ninja are you going to put into your game?