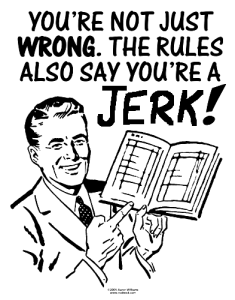 The rules lawyer knows the ins and outs of the game system like I know the curves of every turn in Gran Tourismo. It's their specialty, their baby, their forte. Give them the opportunity to throttle into the turn… er, I mean spout out a rule infraction, and they take it. Meaning, the referee is not always the gamemaster.
On my first session with a new gaming group (my current group), I was shocked to see a player tell another player that his character couldn't perform an action because of rule X,Y,Z.
Excuse me? Why was this player throwing a rule at another player? Isn't that the GM's job? I mean, if my character is about to do something and another player tells me I can't "per the rules," I think I'd get a little peeved.
Later that same night, a different player interrupted the gamemaster to tell him that a monster should get a +4 to hit instead of the +2 that the GM figured. Whuh??? What was up with this group?
I asked the first player about this later. I wanted to know why he was stunting the other player's action, since I didn't feel that was very team-like. I also wanted to know why the other player was giving extra bonuses to the GM. I was so righteous and sure of myself, that this veteran gamer had no idea what it meant to be part of a team.
This is where I got schooled-
He told me that everyone at the table took on the role of "rules lawyer." That way
everyone had a terrific grasp of the rules
everyone always played with consistent rules
no one ever felt cheated
no one was ever shown favoritism
the GM was less burdened
and everything that applied to us also applied to the monsters
He finished his lesson by saying that because of all the teamwork, the GM was more apt to rule in our favor when not sure of something. And, because the GM knew we weren't the type to cheat him or the system, he was very generous with throwing bonuses our way.
Oh.
That pretty much summed up my first experience with a grown-up gaming group.   These guys were the real deal, and I felt kind of humbled…
Still, at least I can kick their butts in Gran Tourismo. So there.
Now, I know that a rules lawyer can sometimes upset the game. Tell the GM that he can't do something, and you'll get on his nerves. Tell the GM that you CAN do something, and you'd get on everyone's nerves. There has to be a universal way to handle interpreting rules and bringing them up in-game. I know my current group does it very easily, and in truth my gaming experience has never been better.
I'm curious, though. How does your group handle the role of rules lawyer?