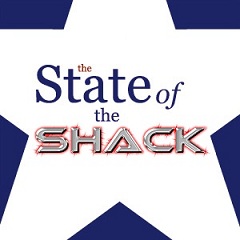 Good day, my fellow chummers. It's Monday, the start of the first full week of the year, and I'd like to address you of our agenda…
The Shack is sailing along, smoothly, with a few hundred consistent hits a day.  I think that's pretty good for a blog that's not yet one year old, and I'm happy with that (hopefully, in the future, we'll get consistent mega-hits).  Of course, who wouldn't want mega-hits?  -But I have to remind myself that hits aren't the reason the Shack is up (or fame, money, or world domination).  Stuffer Shack is up because I'd like a corner of the blog-o-world to call my home, somewhere that a group of us can provide material that others find useful. -And, to make new friends, of course!
Something that I find interesting – Stumble is an unusual beast.  Without fail, we have two articles that get Stumbled day after day after day.  They  outweigh our other articles by a mile, but it's not because they're some deeply, awe-inspiring posts.  No, one's just funny and the other's just cool.  Check out Deck of Many Boons and 3D Battle Maps with Pics, and you'll see what I mean.
If you haven't checked out The Crew yet, you should.  We have a nice mix of ten writers!
Brian Liberge just joined up, and will be bringing with him a treasure trove of Monsters to Steal and other content.
Stuffer Shack would not be where it is without the help of our writers.  I can't thank them enough.  So, I'm happy to say that we share the loot.  That means that a good part of the money the Store makes goes toward our Stuffer Shack Crew.  That's right, we make enough to pay our writers.  Woo – hoo!  Speaking of our Store…
Thanks for reading,