It's Throwback-Thursday, where we revisit an awesome article from years ago…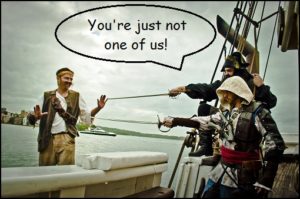 You know the drill: A group of gamers get together, one's a GM and the rest of us are players.
The GM makes the monsters – we kill them.
He makes the NPCs – we steal from them.
He makes the traps – we get trapped by them.
He designs the adventures – we get railroaded by him.
He against us, us against him, so on and so on, forever and ever.
When your group is coming up with a plan, do you all plan it in front of the GM? Does he or she take a break to get food from the fridge, so he's only half listening? Do you make him get up and leave because you are convinced that if he knew your plans, he would have time to prepare a heart-sinking thwarting?
We did that just the other day. We had to get something done and so began discussing it at the table. The GM began to ask us a question and that's when we decided to make him leave. We wanted to surprise him with our "great plan." We wanted to crush – no, demolish his adventure halfway through. We wanted to beat him. So, he agreed to leave the table (seemingly happily) and then went out to the living room to watch some TV.
Ten minutes later we called him back and the game resumed. As you can imagine, our great plan promptly backfired atomic-style because of something stupid that we had overlooked. It really ruined our fun, and almost ruined the whole session.
Later that night I had a talk with the GM. He told me that (1) he was going to inform us of our mistake during our planning phase, but we had stopped him, (2) he initially enjoyed leaving the room for ten minutes, and (3) for the rest of the night he felt bad that we weren't really enjoying ourselves. He said he didn't like sitting at the end of the table, when everyone else was having zero fun. He flat out asked me, "Why do you feel you have to beat me?"
So that got me thinking. Why do I, as a player, feel it is him against us? Probably because I'm trying to beat his armor class, I guess.
The GM's job is to challenge and reward us. Their job is not to throw monsters, enemies, and encounters our way to see which side wins, it's to give us something to do and accomplish… to help us shape a story. That right there practically guarantees fun'ness.
Put yourself into the shoes of the GM. As the GM, are you going to have fun when the players beat you, or are you going to have fun when the players accomplish the challenges you put in front of them, when your players help progress the story and their individual stories?
You, as the GM, know that you can kill the PCs by throwing the book at them. You, as the GM, also know that that is no fun for anyone. For a good group of fun'ness, all you're trying to do is give them opportunities for accomplishment, not opportunities for death'ness.
To all us players out there: Don't gloat about 'winning' until you walk a mile in the GM's shoes. That way, when you do win, you're a mile away, and you have new shoes. -Wait, I think I messed that joke up. Oh well.
As for you GMs out there, it is not your place to make things difficult for the players, every, single, time. Give the players something easy, to show them that you are not against them, but to help them shine. And when they shine after accomplishing something especially great (after much hard work getting to that point), congratulate them. In the end, remember that you are directing a story that involves the players ultimately winning, achieving success, or getting their stories told. When that happens, everyone has won.
Players, after you win or beat the adventure, or whatever, thank the GM for a good game, because he or she put in a lot more work getting you there than you did – all so that everyone could have some fun. Remember that a gaming group is a group of 5 that get together to have fun, not a group of 4+1.
Good Game Everyone!