BACKGROUND/SETTING: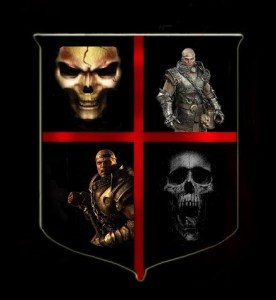 This family and history was created for Warhammer Fantasy Roleplay (Third Edition) by Fantasy Flight Games. It can, however, be easily modified to fit Dungeons & Dragons, Pathfinder, or any other fantasy setting. This background is meant for any Human character, particularly Reiklander Humans. This family history and background can be added to most characters and gives them an instant family history with characters and background hooks for both the player and game master. There are both positive hooks that can benefit the character and negative hooks that can challenge the character.
FAMILY:
You come from a large family with a respected name and family history in Altdorf. Most family members exist in the upper-middle class tier, or even dabble in low-level nobility. Your mother, Katarine, is a well-known Seer. It is said that all of the women in your family seem to have some ability to see the future (they possess the Magical Sight (INT) advanced skill). Almost all members of the family are fervent followers of Sigmar.
Father: Constantin (High-Level Politician in Altdorf) In his younger years, he was a Witch Hunter Captain. In his age, he has given up those days and settled in for the life of a politician. It is rumored that he rose quickly through the city's government ranks and nobility due to his wife, Katarine, and her ability to see the future. He has many powerful friends, but also powerful enemies. Unbeknownst to you, Constantin has pulled strings to have several Witch Hunter associates keep an eye on you when it is convenient for them. They report back to him of your whereabouts and exploits when they come across you. He arranged this for several reasons, but primarily it is his best way to keep track of you when you are out adventuring.
Mother: Katarine (Seer) Is a well-known Seer, even outside of her local area. High level military and nobility have been known to travel to Altdorf and seek her guidance. She never charges money, but will not help those she deems of an "impure heart". This has caused problems in the past when she turned very powerful people away that she did not deem worthy. Your mother has told you that when you have had times of great stress, she sometimes gets a vision of what you have seen, heard, or otherwise experienced. Her ability to see things relating to you and your future is presumably more powerful due to the fact that she gave birth to you.
Brother: Sigmund (Physician) The educated and logical eldest brother of the family. He is the rock that everyone in the family comes to. An extremely successful, well-known, and wealthy physician. He is also a well-known philanthropist in the local community, often providing free medical care to those who cannot afford it.
Brother: Theodor (Merchant) A very successful merchant. Theodor owns or has an investment share in several inns and taverns located from Altdorf to Bogenheim, including areas such as Weissbruck, Trosreut. His trade partnerships also include businesses in major cities like Carroburg, Nadjagard, Auerswald, and smaller towns located on trade routes in between these major areas. He has many, many connections in the merchant world. Theodor and Leonore are fairly close as a brother and sister. Theodor often uses Leonore's insight when he is crafting large trading deals or dealing with the merchant guilds.
Sister: Leonore (Priestess of Morr) Morr is the god of death, dreams, and prophecy. The Morrites are highly respected for their tending to the dead and offering insights and dream interpretation. Although not as "flashy" as the cult of Sigmar, the cult of Morr is nearly as well respected. Through this faith, Leonore has channeled her abilities to foretell the future in a different way than the rest of the women in her family. Leonore is a well respected Priestess throughout the city and country area. Her words carry weight within the community and Constantin will often use her as a public religious symbol that "God" has directed certain things to happen to the people.
Sister: Anneliese von Armin (Scholar) Exotically beautiful, cunning, and intelligent woman who married upward into the von Armin nobility. The family is another well-known noble family in the Altdorf area. Her exotic look and beauty are far different from that of her other sisters or brothers, which has led to rumors of possible infidelity between Constantin and Katarine. Rumors of such are quickly squashed and not talked about within the family. She seems to be missing the seeing skills that are strong in the women of the family, too.
You (Twin): Player Character You are one of the middle children in the family. You have a twin brother named, Johannes. You most likely are an adventurer of some sort and probably not bound to the ways of your family in and around the Altdorf area. Due to this, you are somewhat of a black sheep, but still loved and respected (depending on your class). Your father does his best to keep track of what you do, but this can be difficult with your adventuring and nomadic lifestyle.
Brother (Twin): Johannes (Acolyte of the Grey Order) The Grey Order are viewed as illusionists and tricksters who manipulate the winds of Ulga, and most people trust them even less than other wizards and magic users. The Grey Wizards often refer to themselves as the Grey Guardians, tasked with protecting the Empire from secrets and mysteries too terrible to know. Johannes is the true black sheep of the family. When the family learned of Johannes' magical abilities, it was a tense subject in the house. Johannes left the family compound and did not come back for many years. When he did, he was not the same Johannes that his family knew. He was a much darker person. He is still welcomed back into the family with open arms for fear he may leave again. The only one he truly trusts though is you, his twin.
Brother: August (Dilettante) Perfectly happy being from a well-known upper class family, August makes his way in life by working for his dad, Constantin. He idolizes his dad and would do anything to build a family of his own that is as successful and well-known. He's smart, has good ideas, and good plans, but his vices of women and alcohol always set him back. He tries extremely hard though not to be a disappointment to his father.
Sister: Corinna (Mystic) Looks very much like her mother Katarine and has honed her seer powers at a very young age. Even though she is the youngest sister, it appears she is being groomed to be the future Seer matriarch of the family. Constantin and Katarine are keeping her safeguarded with them. Their hope is to build her powers so she can guide the family after they are gone for generations to come.
Brother: Christoph (Agent of Sigmar) The youngest of the siblings, Christoph is still finding his way in life. He currently works as an Agent for the Church of Sigmar. He has voiced a desire to leave his profession and join the militia, something very undesired by his family. So far, he hasn't gone against their wishes, yet…
PLOT HOOK: THE LETTER OF SAND
Your family is prominent and well known in Altdorf and throughout Reikland. Your parents, Constantin and Katarine have built up an astounding list of allies and enemies. Two years ago, you returned to Altdorf to participate in an annual family gathering. Participation in this event is open to both immediate and extended family that are able travel to Altdorf.
On the night of the celebration, dozens of family members gathered together at the family estate in Altdorf. The celebration was underway and you were there to enjoy the festivities. Anneliese, your sister, noticed that your Uncle Dietrich and Aunt Brunhilde had not arrived at the party. Knowing that they had arrived to the estate the previous day, both you and Anneliese went to the room where your uncle and aunt were staying. Inside, you found that your aunt and uncle had been slain.
The two had apparently been killed in their sleep. Their heads were covered with pillows and both of their throats had been slit. Of course, the local authorities were brought in, and the family celebration came to an abrupt end.
Upon investigation of the room and interviewing of the friends and family members associated with the party, the following was concluded. Uncle Dietrich and Aunt Brunhilde had arrived late the previous day. They said hello to family members and went promptly to bed. No family members recall seeing them awake the next day and they were first discovered by you and Anneliese. Their belongings were largely still packed, as it appeared they went to sleep shortly after arriving in their room.
Authorities suspect that more than one individual was involved, as it would have been improbable to cover the face of one and slit their throat without awaking the other. The sole clue left was an envelope closed with a red wax seal. The wax was sealed with a signet that contained an Old World religious symbol for the word, "Truth".
The envelope was unopened and addressed to "Dietrich and Brunhilde". Inside the envelope was found a fine, black sand, almost the consistency of powder. Examinations of the sand did not lead to any explanation of what it was or why it was there. The murders were never solved.
…..
The following year your brother, Theodor, had traveled to Bogenheim to check up on his inn and several other businesses in the area that he owned. While staying at his inn, a professional courier delivered a letter to him. Theodor looked at the envelope, saw his first name on the front, and a red wax seal with a religious symbol on the back. Manipulating the envelope with his hand, he could feel fine grains of sand within the envelope. He immediately called forth his bodyguards that were with him at the building and left Bogenheim. Theodor learned days later that his inn in Bogenheim had been destroyed in a fire.
Theodor returned to Altdorf. He kept the story of the letter a secret from the authorities and reported it to his family. Examination of the letter revealed a red wax seal. The wax seal contained an Old World religious symbol for the word, "Fate". Inside the envelope was the fine, black sand.
Constantin and the family kept this information quiet and hired a private investigator to investigate what happened in Bogenheim. The investigator verified that the inn was burnt down shortly after Theodor left it. The source of the fire was not determined, but it happened quickly enough that several people within the inn were unable to escape, including close friends and associates of Theodor. The investigator also determined that the courier did not work for the courier agency he claimed to and was nowhere to be found.
…..
Constantin and his family are at a loss as to who is behind the letters and what exactly they mean. The family has enough enemies that one could only guess, but never have any of his family's enemies resorted to outright attacking, much less killing them. All members in the family have been warned to be on guard. Constantin has hired extra bodyguards to protect particularly vulnerable members of the family. It has been almost a year since the most recent attack. Will there be another soon?