It's Throwback-Thursday, where we revisit an awesome article from years ago…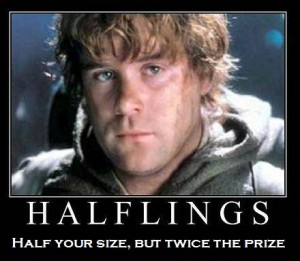 I find devoted (read as, crazy) power gamers perfectly adorable.  It's funny how they will spend so much time reading rules, seeking synergy, and comparing characters on message boards.  The goal, as far as I can tell, is to make sure that the stats, attacks, damage, and checks are all as humongous as possible.  If you were to ask about their favorite gaming memories, I can almost–ALMOST–guarantee that they will talk about numbers:  "I did 107 damage against this nightwalker once" or "We were fighting an iron golem and I hit four times in a row:  42, 37, 40, and 38" or "At first level, I rolled a 30 Athletics check and easily jumped the chasm."
Now, I'm not saying there's anything wrong with this.  Honestly I'm not.  I don't mind the numbers game.  I'm not going to pass judgment on anyone else, either passively or aggressively.  Sure, people who declare things like, "I'm not saying there's anything wrong with this," usually ARE saying there's something wrong with this, but I'm speaking truth here, hallelujah, testify!
So while I'll never hold it against anyone else, optimization is something I choose not to do.  Part of it is that I'm not very good at it (let's face it, math sucks), and part of it is that I don't want to turn character creation into a multi-week research paper (also known as I'm-lazy-as-all-get-out), but most of it is that I have trouble finding the character if I spend all my time seeking the plusses.  The two goals can be mutually exclusive.
When creating a character, I'll do one of the following:
1.  I'll pick a class and/or race that I've never played before.
2.  I'll pick a class or race that I totally love with all of my heart.
3.  I'll be totally contrarian and pick a combination that makes no sense at all.
There's often some overlap here, so I might be able to pick a class I've never played before (like warden) and a beloved race (like halfling) for a combination that makes no sense at all.  As I build the character, his story starts coming into focus:  picture a primordial halfling village, with thatch-roofed huts and a coconut-based technology and maybe a picturesque lagoon, and all of it defended by the Chosen One who uses the power of the volcano and the majesty of the palm tree to make a really killer mai tai.  Or something like that.
Sure, I don't yet know how my halfling warden fits into this setting.  Is he the Chosen One?  Is he the Chosen-One-In-Waiting?  Is he the son of the Chosen One?  Eventually I'll figure this out as time passes and I let my brain bat it around like a squeaky toy, but for now, this is a class and a race I can have all sorts of fun playing.  The only down side?  The completely useless +2 to Charisma and +2 to Dexterity.
The desperate power gamer, who has been pulling his hair out during this creation, might perk up a little at this point and say, "Hey, you can still dump your 8 into Charisma!  It's not a total loss."  Until he sees me lower my Strength to pump up my Charisma, since I picture my little halfling as a chatty and gregarious fellow.  I'll probably even pick a background that gives me Diplomacy, just to complete the ensemble.
The argument against my halfling warden goes like this:  as he goes up in levels, he becomes less and less effective against opponents, and thus becomes a greater liability for the party.  Eventually he'll be a chatty and gregarious black hole, consuming resources and providing nothing.  And this is actually a pretty compelling argument, except for the teeny, tiny point that it's stupid.
These games are not played in the cold, black emptiness of an objective setting.  The rules are not forged from callous adamantium.  The laws are not established on an eternal unbiased bedrock.  If we were talking about a computer game, then yes, you'd better make your character as dangerous as you can, since the programming logic will be unmoved by tears or rage.  But this is a game managed and mastered by a human being, and one who's charged with showing all of the players a good time, preferably with pants on.
A human DM (or reasonable facsimile) can lower the soldier's armor class so my halfling can hit it, or reduce the brute's hit points so my halfling can kill it.  This DM can reduce the Difficulty Class for the required skills so my halfling can jump across the pit, can find the secret door, and can sneak past the slumbering ogre.  Simply put, the DM can choose to make a fun game, regardless of the numbers on my character sheet.
At this point, the power gamer shouts, "Well, you'd never survive in MY game!" That's fine.  If you look your table, you might notice that I'm not sitting there.  I wouldn't fit in.  I would only bore all of you to death with my most dangerous attack, a long and detailed history of my halfling and his village.  I might pepper my talk with an occasional aboriginal word, like chaska for star or taima for thunder.  Yeah, I would be THAT guy.
Granted, there could be a problem when you blend optimizers and non-optimizers, but I'm not even willing to accept that this is lethal to the game.  If I choose to play this character, then I will live with the consequences of your scoring huge numbers while mine are more, shall we say, modest.  I'll still be able to contribute, won't I?  My eladrin cleric can still use healing word.  My tiefling fighter can still mark.  My dragonborn wizard can still go boom on minions.  And I get to play the character I always wanted to play.