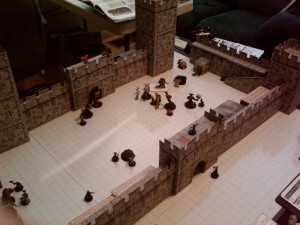 About two years ago I downloaded the E-Z DUNGEONS: Borderland Keep, then proceeded to make one of the best ever 3d battle map terrain sets of my underpaid DMing career.
Of course, after all was said and done, the castle crumbled to pieces due to a raging gargantuan Terrasque… (or, a sneaky 3 year-old who took the entire set under the dining room table for some good old fashioned monster crushing).  Whichever.
Castle… gone… for good…
However, the other day I was cleaning up one of my email accounts…
350+ unopened emails
350+ unopened spam
…when I came across these pics.  They were taken by a player in the game when the castle was used.  Yippee!  This particular battle was cool because the players planned it out with about 100 NPC allies to help them (some quick mass-combat rules made this easy).  This was one of my favorite battles that I've ever run, simply because we were able to utilize inner and outer castle walls, gates, portcullises, towers, crenelations, elevated crossbowmen, and hordes.  The whole thing was dynamic, and just plain cool.
Now, I still have the files for the castle set, so I can make more castle pieces again in the future.  I just need the perfect adventure.
Click to make 'em bigger: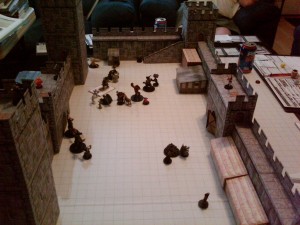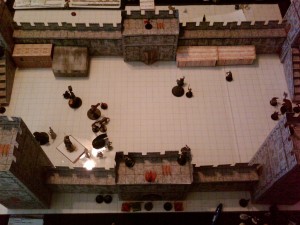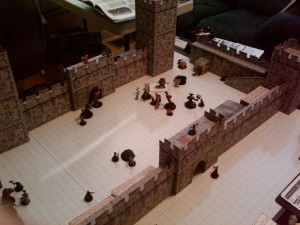 If you ever make something like this, expect to use a fair amount of printer ink (set it to economy quick print), and make sure you have a decently-sized play area.  Right now the Borderland Keep is 50% off ($5.50), though I don't know if it's a sale or permanent.  *Scratch that* – It was a sale.