Is your player character Blinded and Exhausted? Is the bad guy Nauseated? Keep track easily with our new Condition Markers!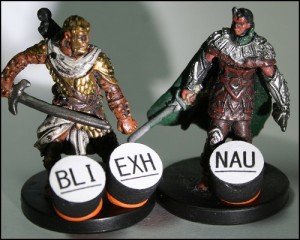 For the last few years, Our Mini Counters and Mini Markers have done pretty well, and I'm always getting compliments, praise, and thanks for selling them.  Well, an awesome returning customer asked if I could put together markers that would indicate conditions, and so I gave it a shot.  Pretty sure they turned out fantastically – what do you think?
Our Condition Markers will support just about any game… Dazed,  Prone, Slowed, Shaken, Stunned, Wounded, and many more are available (really, any condition).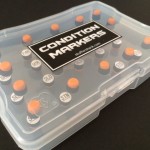 These markers are 3/8 inch across (only slightly bigger than our Mini Counters), so they still fit nicely on your figures.  They use sticky tack to easily stick to your minis, and (of course) come in a convenient and protective case.  There's even a laminated cheat-sheet.
The one thing that I love most about these is that they are so easy to use, effective at the table, and you can get a set for ANY game.  Ok, that's three things I love about them.
I honestly don't know why we didn't put these together sooner – but I'm definitely glad they're here now.  Many thanks to John Patala for helping make this happen.