Check out the following 4 RPG blogs, then cast a vote for your favorite!

This is day 2 of 4 for Reader Voting of the 2013 RPG Site of the Year contest. Monday – Thursday we'll have a new group of sites for you to check out and vote on. We'll post the four finalists on April 22nd, and then the winner on April 29th. So, after you vote (below), come back tomorrow to vote again, then to see the finalists, and then the 2013 RPG Site of the Year winner!
~ ~ ~ ~ ~ ~ ~ ~ ~ ~ ~ ~ ~ ~ ~ ~ ~ ~ ~ ~ ~ ~ ~ ~ ~ ~ ~ ~ ~ ~ ~ ~ ~ ~ ~ ~ ~ ~ ~
SHORTYMONSTER
– Online since: June, 2012
– Must read #1:  To be an Archer
– Must read #2: Some advice on running a horror RPG
The blog was created to give something back. I've been a gamer for almost 20 years, and have split that time on either side of the screen, and as such have seen the gaming world from some different perspectives. Part gaming advice, part column, with a healthy dose of things that prove to be useful, I keep writing because I sharing my ideas. We're all involved in community story telling experiences, so why not bring them to the whole of the community.
DUNGEON'S MASTER
– Online since: February, 2009
– Must read #1:  How a Blind Player Improved Our Game
– Must read #2: The 5 Ws of Treasure Maps
Dungeon's Master is a D&D resource blog for players and DMs. Our goal is to offer ideas and suggestions for making your D&D gaming experience better. To that end we've provided our thought and insights – based on our considerably gaming experiences – on most facets of 4e D&D. This has helped us establish ourselves as the best place to find 4e D&D resource online.  Although we began writing exclusively for 4e D&D, our focus has broadened and many of our articles are applicable across editions and RPGs. With over 1,000 articles in out archive we're bound to have something that meets your gaming needs.  We take great pride in our role as leaders in the public play gaming community. By sharing our experiences, promoting upcoming events and providing essential resources we do our part to expand the gaming community locally and globally.
G*M*S MAGAZINE
– Online since: July, 2010
– Must read #1:  RPGs I Have Played, and  few comments about them
– Must read #2: Not-always-lethal illnesses and conditions your players should be aware of!  Part one!
The focus of the site is to bring honest reviews and interesting articles as often as possible. In the last year we've expanded by creating a network of blogs and sponsoring that network. We've been very lucky to have the legendary Ken St. Andre showing an interest and joining the network too! We've also pushed the podcast and video unboxings schedule; a lot. We've also covered several conventions both in the UK and Germany too (which is very expensive).  Not sure my site is the best out there, but I'm sure going to make the hell of an effort to get as close as I can!
GAME MASTERS
– Online since: 1994
– Must read #1:  Magic Dice
– Must read #2: How I Named My Guild
Starting out as a brick and mortar retail location in Memphis, Tennessee, Game Masters is now a website dedicated to the review of games, movies, and other assorted geekery.
~ ~ ~ ~ ~ ~ ~ ~ ~ ~ ~ ~ ~ ~ ~ ~ ~ ~ ~ ~ ~ ~ ~ ~ ~ ~ ~ ~ ~ ~ ~ ~ ~ ~ ~ ~ ~ ~ ~
Voting has closed! Thank you!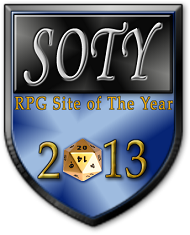 Introduction / FAQ
Prizes
Submissions
Schedule
Rules
Judges