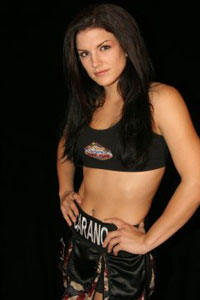 Not a mixed-martial arts fan?  Not a problem…
I've been following Mixed Martial Arts since the inception of UFC in '93.  This is when a lot of boxing fans (and non-boxing fans) saw the amazing execution of triangle chokes and ankle locks, and saw them actually working.
In RPGs (like Spycraft) a lot of these moves are used in-game, though seemingly improbable.  Real-world fighting is usually down-and-dirty; most combat moves in RPGs are highly unlikely to be pulled off in reality…
Until you watch this movie… Haywire.
Sure, it's a movie, but before I realized who was playing the main character, I thought, "Cool!  That chick looks like she actually knows how to fight.  There's some real strength and technique in there.  Oh, it's Gina Carano.  Yeah, she could kick my ass with two broken legs."
So, here you have it.  Gina Carano (MMA superstar) in her first feature film starring role.  The movie is nothing special (covert operative gets double-crossed, yadda-yadda-yadda), but the fight scenes alone will get you pumped.  Surely inspiring for that kick-ass character you're now going to think up for your game.