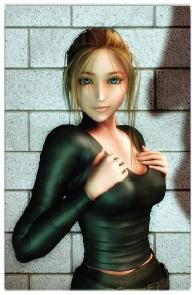 Minori was originally an NPC who appeared in a short lived Anime-style martial arts game. Her chi-based powers were designed around concepts like deception and poison. I wanted to create a character who, under the right circumstances, could end a fight without her opponent even realizing what had been done to them.
That's where the modifiers came in. I made her main attack both subtle – meaning, difficult to notice the attack itself – and insidious – making the EFFECTS of the attack equally hard to detect. Further, on inspiration from the old Monk ability, "Quivering Palm," I added the triggered modifier.
I now had a character who could attack without being noticed, and who could delay that attack several times to activate at a later point. She was the perfect enforcer and assassin, and her enemies wouldn't always realize that they'd been singled out until after she walked away.
Conceptually, Minori was always tied closely to the snake. In addition to her poisonous chi, her more mundane skills and martial arts training were patterned after the snake as well. She studied snakes to get more ideas, too. Some would have called her cold-blooded. Her friends, though, knew her better.
I now present to you, "Minori, Mistress of the Unseen Serpent," as a proper Power Level 10 PC. All she needs is a pair of complications suited to your game, and she can drop right in.
Enjoy!
Download the Mutants & Masterminds PDF Character Sheet: Minori, Mistress of the Unseen Serpent
Image from Greywulf.