This contest has ended. Here are the results!
Edit: The finalists have been announced here… – 5/2/11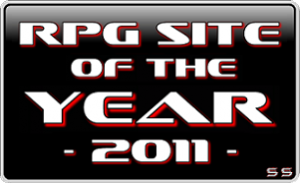 Every month (since we opened), we've had our "Site of the Month" feature.  It's where we showcase a great RPG blog, regardless of whether it's established or brand new.  What's important is that the blog simply offers great fan-created RPG content.  There's no science behind which blog ends up being the Site of the Month; it's just a matter of which articles caught our attention.  It's completely random and arbitrary;  sometimes we stumble across an amazing article, and sometimes a reader has pointed us there.
Well, Stuffer Shack has been up for a year, so we're going to have an RPG Site of the Year contest!  With PRIZES ($225+ worth)!  We've always had the Site of the Month feature, and always will, so RPG Site of the Year just seems appropriate.  Also, we'll never have more than one category – RPG Site of the Year is it.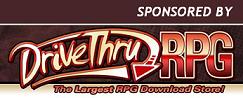 This year, the judging will be done by the Stuffer Shack Crew.  Sites that belong to individual Crew Members are ineligible.
SITES THAT ARE ELIGIBLE
Must have a strong focus in Table-Top RPGs
Must have been online for at least three months
Must be independent, non-corporate, fan-based gaming blogs
WHAT THE JUDGING IS BASED ON
The usefulness of the blog's content
How well-written the articles are
The variety of the articles
Site layout and feel
Regular posting
Entertainment
Creativity
HOW TO ENTER
It's free!
All previous Sites of the Month are automatically entered.
Anyone with a gaming blog may submit their site.  It helps if you include a specific, favorite article for us to read.
If you have a favorite gaming blog that you visit often, ask the owner to submit for the contest.  Remember, it's free!
You can view our current submissions here.
THE SCHEDULE
April 11 (Monday): Submissions start today, and will be posted as time permits during the next two weeks.
April 25 (Monday): Submission entry ends.  Round 1 of the judging will begin, lasting one week.
May 2 (Monday): The finalists will be posted.  Round 2 of the judging will begin, and readers are encouraged to leave comments about why we should pick their favorite of the finalists.  This may or may not sway the judges, but it won't hurt to try!
May 4 (Wednesday): The winner will be announced!
Call it a Shotgun Showdown, because I'm sure the readers and the judges will be working like mad as we approach the end.
THE PRIZES (worth $225+)
For a free contest, I think this is a pretty good Prize Package.  Also, I have to give a big thank you to our sponsor, DriveThruRPG, for their support.  The grand prize includes:
EVERYTHING we offer in our Store:
A downloadable DriveThruRPG Prize Bundle:
Stuffer Shack is also throwing in a DriveThruRPG Gift Certificate.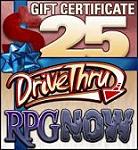 That's it!  Easy as pie.  Simply submit your site for free, or ask your favorite site's owner to submit theirs.