The SOTY Award – Submissions
EPIC RPG BLOG
– Online since: March, 2011
– Must read #1:  Swords & Wizardry Appreciation Day Offering
– Must read #2:  Paranoia PDC Prop
Primarily, I'm focused on gaming with kids.  My 13 year-olds have been playing for about half their short lives already, and this is one way we keep track of it. I do reviews, especially with a take on the appropriateness for younger kids. And, the boys have begun doing their own con reports recently.
THE RULE ZERO PODCAST
– Online since: April, 2011
– Must read #1:  Pick-ups!
– Must Listen #1:  Episode 7: Undies on the Outside
Rule Zero started as a conversation about gaming between two guys that wouldn't shut up about it. We talk about top RPGs but also show a lot of love for indie games, and frequently discuss tabletop board and card games as well. We both have very busy work and gaming lives, but we try to put a show out every month, and Pete or Chris will often throw out an article to fill the gaps between podcasts. We occasionally have guest speakers on the show, one professional interview so far but we're working on scheduling another. It's an open conversation about a topic that a lot of people have opinions on. We have a couple original skits that we use to introduce shows. We're still working on building an audience and figuring out how to get the word out there, but we're always open to feedback.
BIG BALL OF NO FUN
– Online since: October, 2009
– Must read #1:  Shop: Able's Horse Shop
– Must read #2:  It's All the Player's Fault!
The blog is a one-man operation; I do all the writing. The goal is to release at least 1 article a week, usually Tuesday, with more if possible. The focus of the site is to give opinion on rpg topics, both for GM's and players (though there is a very heavy GM focus), along with articles that are of use at the table.
DM FIAT
– Online since: September, 2011
– Must read #1:  Loaded-20: Whedon/Abrams Feud Erupts Over Social Networking
– Must read #2:  Mature Themes in Gaming: Pregnancy
At DM Fiat we strive to expand the reach of Tabletop gaming beyond the stereotypes into a larger, more inclusive community. We believe that:
1: Anyone can Roleplay – We don't exclude noobs, casual gamers, or even people that play differently from us.
2: We should recruit more people into our hobby – Gaming might not be for everyone, but we should extend an olive branch for first time gamers even if they come from unlikely places.
3: Rules are guidelines – When we post articles on DM Fiat, we don't mean to say that our way is the only way to play. We think that no matter how you play, the right way is whichever way is the most fun for you and your group.
The DM Fiat blog features news, industry interviews, tips for players and GMs, and anything else that might wander across our map.
SHORTYMONSTER
– Online since: June, 2012
– Must read #1:  To be an Archer
– Must read #2:  Some advice on running a horror RPG
The blog was created to give something back. I've been a gamer for almost 20 years, and have split that time on either side of the screen, and as such have seen the gaming world from some different perspectives. Part gaming advice, part column, with a healthy dose of things that prove to be useful, I keep writing because I sharing my ideas. We're all involved in community story telling experiences, so why not bring them to the whole of the community.
AGE OF RAVENS
– Online since: January, 2009
– Must read #1:  The Best in Horror RPGs: Unfair Verdicts
– Must read #2:  Thanes of Whiterun: Skyrim via Hollowpoint
I run a lot of campaigns, probably too many. I've used Age of Ravens to talk about how I've run, what I've seen in games, and tactics I've used successfully (and unsuccessfully). That means a combination of articles on GM tricks (making stronger NPCs, speeding combat), reviews with a focus on the GM side (examining early L5R products for use with the new edition, reassessing classic campaigns), actual play (write ups and videos), and analysis of particular topics (the history of horror RPGs, inventorying superhero cities). We've recently added a podcast as well, Play on Target. I enjoy reading gaming blogs that talk about the craft of running games. Reviews and play discussions work best when they have value-added commentary. With Age of Ravens, I try to talk about my process- offering post-mortems for campaigns and showing how a group's handled ideas like collaborative world building.
KOBOLD PRESS
– Online since: July, 2007
– Must read #1: Your Whispering Homunculus: Twelve Obsessive Collectors (Part 1)
– Must read #2:  Midgard Icons: Baba Yaga
The Kobold Press blog presents readers with weekly content that focuses on sword-and-sorcery tabletop RPG content, with occasional news and product announcements. We also enjoy having contests that allow our readers to submit content and also vote on the pieces that judges deem to be worthy finalists, plus we provide columnists a place to post thought-provoking pieces regarding fantasy roleplaying gaming. We welcome comments and interactions on the site, so come see what the kobolds have to offer you!
GNOME STEW
– Online since: May, 2008
– Must read #1:  How to Make a Drop Map
– Must read #2:  Deep as a Puddle: Character Ties Cubed (3x3x3)
Written by a team of veteran GMs, Gnome Stew is the most widely read game mastering blog on the planet. We started Gnome Stew because we believe that game masters are under-served in the RPG community. There are few websites and even fewer books dedicated to game mastering — GMs usually get one chapter in a larger work, and that often doesn't address a lot of what we actually do at the gaming table. Since May 2008, we've served up over 1,300 free system-neutral articles and published three books for GMs. Our mission is to help GMs have more fun at the gaming table, regardless of their system of choice, their experience level, or their play style.
GEEK NATIVE
– Online since: 2009
– Must read #1:  Green Ronin survived the theft of $100,000 and now deals directly with George R. R. Martin
– Must read #2:  Villains & Vigilantes RPG creators win legal battle over game
Geek Native is a site for gamers. The premise is that gamers don't just want to talk obsessively about their favourite dungeon crawling orc fighter. As a result, the blog talks about computer games, movies, books and a lot more.  This is good for the industry. It means Geek Native earns an audience from a wide range of people; ex-gamers read the site, people who could become gamers read the site, as well as gamers. This allows Geek Native to recruit people into the hobby. It means publishers can sell new products or Kickstart to people other than their already established fans. Hopefully, Geek Native helps the industry grow.
G*M*S MAGAZINE
– Online since: July, 2010
– Must read #1:  RPGs I Have Played, and  few comments about them
– Must read #2:  Not-always-lethal illnesses and conditions your players should be aware of!  Part one!
The focus of the site is to bring honest reviews and interesting articles as often as possible. In the last year we've expanded by creating a network of blogs and sponsoring that network. We've been very lucky to have the legendary Ken St. Andre showing an interest and joining the network too! We've also pushed the podcast and video unboxings schedule; a lot. We've also covered several conventions both in the UK and Germany too (which is very expensive).  Not sure my site is the best out there, but I'm sure going to make the hell of an effort to get as close as I can!
GAME MASTERS
– Online since: 1994
– Must read #1:  Magic Dice
– Must read #2:  How I Named My Guild
Starting out as a brick and mortar retail location in Memphis, Tennessee, Game Masters is now a website dedicated to the review of games, movies, and other assorted geekery.
THE BLACK CAMPBELL
– Online since: September, 2009
– Must read #1: Setting the Scene: Pacing Issues, Part 1 (Preparation & Improvisation)
– Must read #2: Setting the Scene: Pacing Issues, Part 3 (Timing…It's Everything)
The main focus is primarily GM and player tips, game reviews, and games that are out of print but still have a large fan base, like the James Bond: 007 or the classic Cortex systems, and other non-D&D games. I figure the majority of games sites cater to the fantasy RPG crowd. I'm trying to do things for the rest of the gaming community.
HERETICWERKS
– Online since: August, 2011
– Must read #1:  Monsters: An Index of Our Monsters (A pdf Bestiary is in the works)
– Must read #2:  Space-Age Sorcery Now Available For Download
We are the online home for Bujilli, Wermspittle, Lithus Sector, and an ever-growing assortment of Classic Table-Top RPG stuff that you can use for whatever system/edition you like.
DUNGEON'S MASTER
– Online since: February, 2009
– Must read #1:  How a Blind Player Improved Our Game
– Must read #2: The 5 Ws of Treasure Maps
Dungeon's Master is a D&D resource blog for players and DMs. Our goal is to offer ideas and suggestions for making your D&D gaming experience better. To that end we've provided our thought and insights – based on our considerably gaming experiences – on most facets of 4e D&D. This has helped us establish ourselves as the best place to find 4e D&D resource online.  Although we began writing exclusively for 4e D&D, our focus has broadened and many of our articles are applicable across editions and RPGs. With over 1,000 articles in out archive we're bound to have something that meets your gaming needs.  We take great pride in our role as leaders in the public play gaming community. By sharing our experiences, promoting upcoming events and providing essential resources we do our part to expand the gaming community locally and globally.
TROLL IN THE CORNER
– Online since: October, 2008
– Must read #1: Reality Makes the Best Fantasy: Public Housing
– Must read #2: Cheating is the natural state of play for those cheeky little gits called kids. Here's why that's okay, and why you should embrace it.
Troll in the Corner is and always has been written by a group of enthusiastic gamers. We love tabletop games and will do everything we can to further the hobby and improve the public's access to cool new stuff, from independent games to the biggest publishers out there.
NEARLY ENOUGH DICE PODCAST
– Online since: July, 2011
– Must listen to #1: Episode 80 – With Special Guest Paco Garcia Jaen
– Must listen to #2: Episode 61 – Kidnapped!
Nearly Enough Dice is your weekly geeky catchup on everything that is happening in the world of gaming! Our main focus has always been, and will be RPGs but we cover everything and anything in between! From news, reviews, opinions and advice we cover all that we can in the world of gaming!
GLIMM'S WORKSHOP
– Online since: September/2010
– Must read #1: Black & White: A Dice Mechanic
– Must read #2: The Last Child of Io
Glimm's Workshop is a blog that focuses on game mechanics, free material, and gamemastering advice. It originally featured mostly D&D content, but has since expanded to include posts on a wide range of tabletop games including Dragon Age, Warmachine, and Marvel Heroic Roleplaying.
CHEESE SHOP
– Online since: June/2011
– Must read #1: Creating a GURPS Character
– Must read #2: The Adventure Creation Process
I am an old school gamer who had missed playing RPG's. During the creation of this site and the subsequent posts I have reinvigorated my obsession. GURPS is my system of choice. I have played many other systems over the years and will continue to do so. This blog has helped me get back to the table. My idea for the site is to provide my RPG experience and views. Though some may not agree I respect all opinions. I want to be someone that grows the hobby and encourages all kinds of discussion about RPG's. -Bradley Harvey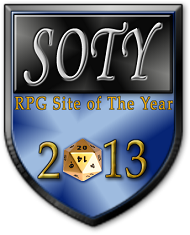 Introduction / FAQ
Prizes
Submissions
Submit your Site
Schedule
Rules
Judges