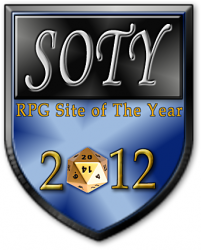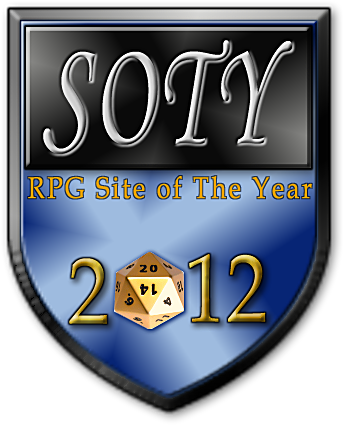 The RPG Site of the Year contest and award was thought up and implemented with three goals in mind:
To provide a fun event that readers and bloggers can take part in,
To bring to light some interesting blogs that readers may not have seen before,
And to award that one gaming blog for a job very well done.
Well, I think we've accomplished the first two goals, so all that remains is for the 2012 RPG SOTY judges to look over the five finalists to determine the winner!
Oh wait, I guess I should list the finalists…
Listed in order of their competition days, the five finalists for the 2012 RPG SOTY are:
Gnome Stew
Dungeon's Master
G*M*S Magazine
The Id DM
Nearly Enough Dice
Day 1 voting – This was fun to watch because the first day of voting really set the tone for the rest of the week, in my opinion. Watching Kobold Quarterly and Gnome Stew go for the win was like watching a couple of buddies going after the last slice of pizza. Maybe the folks behind those two blogs really are close buddies, maybe not, but the light-hearted rivalry I saw posted in various places was both respectful and fun to read.
Gnome Stew collected 44% of the votes for this day.
Day 2 voting – On this day we saw a good line-up of gaming blogs, and (at first) the lead changed a few times. What I like most about this competition, though, is discovering blogs that I've never seen before, and for this day of voting there were two.
Dungeon's Master collected 50% of the votes for this day.
Day 3 voting – I don't really want to mirror what I said about Day 2 voting, but man! Were there a lot of cool sites never before seen or what? [ok, I may be a hermit] I'm familiar with only two of the sites for this day, and all I can say is that my RSS list grew five sites bigger.
G*M*S Magazine collected 55% of the votes.
Day 4 voting – I really had no clue who was going to become the finalist for this day of voting. No clue at all. I read several of the sites for this day of voting pretty regularly, so I was really curious. This day, though, had the most narrow margin of success. The Id DM took a very late lead to win by only one vote.
The Id DM collected 40% of the votes.
Day 5 voting – This year we expanded our contest entries to podcasts and webcasts, and for this day of voting we had a podcast take the win. To be honest, I have yet to start listening to podcasts regularly, but with their proliferation these past couple of years, I think it's imperative to start making more time.  I'm definitely looking forward to reading – um… listening to Nearly Enough Dice…
Nearly Enough Dice collected a whopping 62% of the votes.
The judges for the 2012 RPG SOTY will be reading the five finalists over the course of this week.  From their efforts a winner will emerge as their collected favorite, which will be posted this Monday (April 30th).  The judges each have a set of guidelines with which to use (if they wish), but ultimately, it all simply boils down to which gaming site ends up being their favorite.  Of course, if any readers out there would like to show some positive support for their favorite, please do so in the comments below!
See you on Monday, April 30!