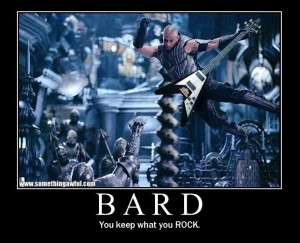 I've always liked the idea of the bard, not because of what he can do in terms of game mechanics, but because of what he can do in the game.  Simply expanding the perception of the bard just a little bit can greatly expand the gamer's experience.  Let's take a look at the two most traditional roles a bard can assume in any fantasy setting:
The Entertainer
The most often used type of bard would be the entertainer.  This is the guy (or gal) who usually works for himself.  He's in every major town, and can be seen on any major street.  The lucky get a few gigs in taverns, while the talented can book major events.  As an entertainer, this bard is always looking to make people laugh, swoon, or close their eyes to enjoy his music.  This guy doesn't have to be versed in literature, or have any knowledge of history (though all that helps).  What's important is that he knows how to give the people what they want.  And hey, in an age without TVs or ATVs, that can sometimes be hard to come by.
This guy is very easy to insert into a fantasy game.  He simply tags along an adventuring party to gain material for his songs, stories, and poems, so that he may make some coin off them at the next town.   As a plus, he might also get to include himself in the adventures.
Since a bard among a group of adventurers is already a cut above the rest, it can be assumed that he has, or will soon gain, a reputation.  After a bard gains a few levels, it can even be said that he has become a celebrity.  Just imagine the bustle that happens when a bard of renown walks into town.  He will soon be asked to perform at events and gatherings – and in fact it is assumed that he will.  Invitations to dinners and parties are readily offered.  He'll even be offered money just to make an appearence at events.
The Voice
As the voice, a bard is responsible for praising his patron, and insulting his patron's enemies.  This position almost always requires formal training in literature, history, and poetry, as well as an excellent knowledge of current events.  Such bards are employed by rich merchants, noblemen, or even royalty, and remain in service for years.  At any gathering or event, they either speak for, or alongside their masters, to make for a better presentation.   Not really suited for singing, dancing, or playing music, their specialty lies in what they say, as opposed to how they say it.  For sure, being able to gain attention through commanding presence and charisma is a must, it's just that they are not necessarily entertainers.
It's very easy to integrate this type of character in a fantasy game.  The simplest way is for the bard to be employed by the adventuring party.  At the very least, he is simply part of the group and speaks up for them every chance he gets.  When an introduction is called for, he does it grandly.  The deeds and exploits of the group (what they fought, who they rescued), is spoken at every tavern and recited at most other gatherings.  His position as a bard becomes quite apparent to others right away, and that often improves how the adventuring party is perceived.  Anytime the adventuring group is addressed, the bard is almost always included in the conversation, if not talked to directly.
If you've ever wanted to play a bard, but were unsure about how to take it on, use one of the two examples above.   Hopefully, by choosing either the entertainer or the voice, you'll have an easier time.  I think you'll find that role playing a bard, while challenging at times, can be very rewarding.
P.S. – Why don't you try to add the bard to your sci-fi game, like Star Wars or Traveller?  I'm sure it could work just as well, maybe even more so.