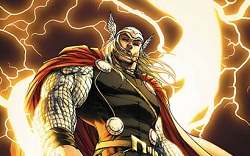 I've been tinkering with the following for about two weeks now. I've seen lots of new Marvel Datafiles floating around the net since Marvel Heroic Roleplaying launched. Many appear in plain text, while others have created large, colorful image files for their characters. I've striven to create something in between.
The below was created with Word, and we've included the .docx file so you can edit to make your own. It's almost entirely in black and white to be legible and easy on your home printer. All the dice sizes are included in the Stress Tracker at the bottom of the page, and those images can be copied to create new Powers or Specialties.
We've started off this series with a classic that was missing from the files included with the Basic Game, Thor! Thor just happened to be dead at the time of The Breakout Event, but there's no reason why he can't come back to life a little bit early in your home game. Check out his full history on the Marvel Database.
What do you think of the editable Datafile? Which heroes would you like to see? Let us know in the comments!
You can download the Marvel Heroic Roleplaying PDF here, or get the book! You can also check out the rest of our Marvel Madness!