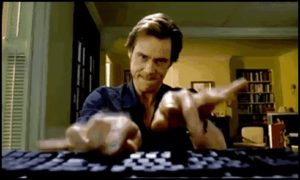 I'm currently engaged in my 10th Kickstarter campaign at the moment. It's a project called Trinity of Awesome Returns!
A lot of people have asked me about what all goes into my Kickstarters; like, how do you get from the initial idea (step A) all the way to fulfillment (step Z)? Well, as you can imagine from the space between the first and last letters of the alphabet, there's a lot that goes into it. This article will focus on the beginning of the process. Step A, if you will.
Before launching a new Kickstarter, I ask myself a few questions. Chief among these is… what do I hope to achieve? Invariably, my first goal is to write/design something awesome and get the funds in order to see it through to completion. After that, I try to get more specific (step B).
What is awesome? Defining what awesome means to you is a very important step in the process. I'm not sure an objective answer exists, one that would satisfy everyone. However, I'll give you my definition of awesome and that will hopefully shed some light on how I work, what goes through my head when I'm creating stuff, etc.
Awesome, for me, comprises three principles: Fun, Utility, and Creativity. Below, I'll expound on each one.
An awesome RPG product needs to be a good time. That means it has to have an exciting premise, be engaging, bringing up all sorts of ideas in your mind. It has to have challenges, moments of levity, excitement, passion, intrigue, (and if you're me) possibly darkness, sex, blood/gore, and tentacles… lots of tentacles! Everything you create should have a sense of fun somewhere in there or else why bother?
An awesome RPG product should be useful. It should help, rather than hinder the GM. It should give advice; provide assistance – random tables, for instance. It should have artwork and/or maps of some kind so readers have an idea of what's going on. It should provide the GM with what he needs to run the thing and run it well – options! If the product creates a problem, then it needs to provide one or more solutions to that problem. It should give players and their characters space to operate and choices so that the adventure isn't always headed down a predetermined track (i.e. railroading).
An awesome RPG product should be different than a dozen others that are similar to it. It's extremely difficult to come up with a unique concept, radically different than everything that's come before. A new RPG, adventure, sourcebook, or GM aid should feel new – it should have multiple elements which are either totally fresh or arranged in such a way that it seems that way. Put your own stamp upon it! Incorporate weirdness when you can, provide non-standard monsters, items, spells, NPCs, rooms, etc.
In the end, this project has to be something you'd like to use yourself, an RPG product that you'd get a kick out of using yourself, that actually makes it easy to use, and that isn't just a collection of worn-out clichés.
Do all that, and you'll be well on your way to providing a top-notch… whatever it is you hope to make!