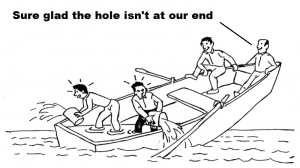 GMs aren't the only ones with responsibilities. The players are co-creators with the GM and that gives them certain responsibilities.
Below are lists of player do's and don'ts:
Game Preparation
Be on time. If possible, try to be a little early. That will give you some time to get settled and ready to play.  If you can't be on time or have to miss a session entirely, call your GM.
Be prepared for the game session. Have your character sheet, dice, or whatever else you need to play.
Try to create a character that will fit in the rest of the group. If everyone else in your group is playing good characters, leave your anti-paladin at home, unless the GM and group say otherwise.
Recognize that your GM may have to cancel a game session occasionally.  The GM has a real life, too.
During the Game
Be honest with the GM and other players. Your character doesn't have to be honest (unless that would severely disrupt the game), but you, as the player, should be completely honest about die results and other game-related information.
Share the limelight. Don't hog all the GM's attention.
Stay focused on the game. Keep conversations about the latest movies, etc. to before, after and during breaks in the game session. Don't play on your computer during the session. Even when your character isn't currently involved in the action, you can be updating your sheet, taking notes, planning strategy, etc.
Find out your group's policies on notes to the GM and/or pulling the GM aside for individual conferences. In my games it's not only allowed, but is actively encouraged as long as they're kept short; other groups absolutely hate them. Find out your group's preferences and stick to them.
Don't talk about how you could run this game better or how things would be different if you were running this game. You're there to play, not to GM.
If you have a suggestion on how the GM could improve the game, bring it up to him outside of the game session. Also, be willing to accept your GM's decision on the suggestion; he usually has valid reasons for declining your idea.
Similarly, accept your GM's ruling. If you disagree with her interpretation of a rule or with an event that happened, discuss it with your GM after the game session.
Look for ways to involve your character in the game without trying to monopolize it. Don't leave it completely up to the GM to tell you what to do. However, if you're lost and don't know what to do with your character, ask the GM and the other players. They'll usually be happy to help.
Keep game events in the game; try not to take them personally.
Leave personal issues outside the game.
Don't look at the GM's notes/adventure/other game stuff.
Trust your GM or be willing to leave the game. Often the GM will have reason for something happening in the game, but may not be able to reveal that reason until several game sessions down the road.
As a Guest
Be a courteous and respectful guest in your host's home.
Clean up after yourself.
Unless your host says otherwise, confine yourself to the game room, the bathroom and (with the host's okay), the kitchen of your host's home. Don't go wandering into other rooms of the house and, above all, try not to disturb non-playing members of the host's family.
If a member of your group is violently allergic to something, don't bring it, unless the individual gives the okay. For example, in my group, our GM has a severe allergy to pork. Even accidental contact with pork grease on his hands can send him to the emergency room. Any pork item is barred from our gaming table. On the other hand, I'm allergic to dairy, but only if I actually eat it.  I don't mind if other people in the group bring dairy products.
Asking if anyone in the group has severe allergies and then being careful of them is a great way to make yourself a player who gets invited to many games.
Don't hang around the host's home long after the game session has ended. Unless you're invited to stay by the host, thank her for hosting and leave when the other players do or when the host asks everyone to.
Don't pick up or touch things in your host's home without his permission.
And Above All:
Be willing to gracefully leave a gaming group that you don't fit in with. Don't flame the GM or other players; recognize that everyone has different play styles. You can be friends with people you don't like to play with.