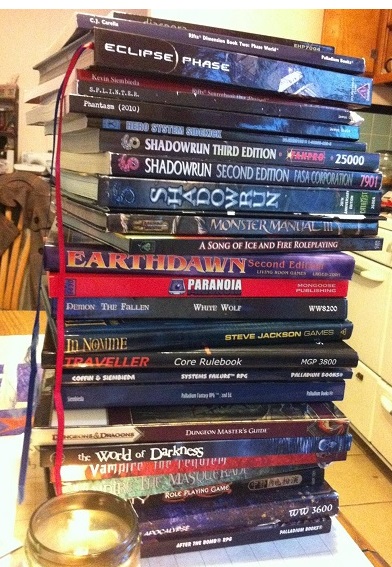 It's summer, so the group I DM for has reunited. They're all college guys attending school in different places, so playing D&D during the school year is impractical. Instead, they use their huge swaths of free time over the summer to engage in all manner of gaming hedonism. Last year, we used our weekly gaming sessions to create a world and tight story arc that would begin and end in ten week's time. We also experimented with co-DMing. Each player took a turn in the DM chair, adding their own unique bit to the larger story. It worked out wonderfully.
Since I had performed those experiments with the group last year, I knew they were open to trying new things. So in March I began a dialogue with them on our Facebook group to find out what they wanted out of our summer campaign. At first, my suggestion was to eschew a campaign structure, and just try out a bunch of different RPG systems with one-shots. Then, the discussion took this turn:

Well, now there's an idea.
Could it be done? Could we maintain a single party and a single story thread through a campaign that dabbled in many different RPG systems? I wanted to find out.
We live in a golden age of RPGs. It seems like every week Kickstarter adds another book and another system to the world's growing library of Role Playing Games. If you want to play it, chances are, there's an RPG for that. So why would we sit down and play the same system every single week? Sure, there's an argument to be made for system familiarity, and also one for nostalgia, but I can think of no good excuses to completely ignore all the other systems out there. We must at least dabble! Most systems have quickstart rules and level 1 one-shots to use. Most of them are free. In fact, we'll be using the Shadowrun Quickstart Rules and encounter that I picked up at Free RPG Day this year. Yes. Yes, we will try this. So here's the plan:
The Story
In my mind, I do have a very loose story planned out. I want to leave enough open for the players to change direction, but failing that, I need a cohesive and believable way to get from one RPG system to the next. I need a story reason that the characters would be engaging in the same themes that an RPG exhibits. For example, when we try out the Leverage system, we need to be at a place in the story where a heist is necessary. That's what the Leverage RPG does. Complicating all this, of course, is the time constraint (deadline: end of August), so I may need to tighten up my sessions to hit all the games we want to play. As this series goes on, I will be slowly revealing the story as it unfolds.
The Systems
As of right now, the systems I have planned (and the order in which we will play them) are:
D&D 4e
Microscope
Gamma World
Shadowrun
Leverage
Call of Cthulhu
Dread
Can We Do It?
I'm not sure. I would feel more confident if we were playing RPG systems that at least one person in the group was familiar with. As it stands right now, I need to have at least a tentative grasp on the rules of every RPG we play. I'm hoping that, much like learning a language, the more systems I learn, the more easily I can pick up a new one. Also, since we only get one session with each game, we will need to use pregenerated characters. The players may find it difficult to shoehorn an established PC personality and story into a pregenerated character. But there's no way around it. Character creation would simply take too long to incorporate with a story into a single session of an RPG.
In the end, I have to be honest and express a bit of doubt as to whether or not we can pull it off. Lucky for you, you get to read about the fantastic success or failure of our little laboratory, right here, as the summer rolls on. Of course, in success or failure, we'll be sure to have lots of fun, and there's no doubt that we'll be exposed to new systems. So in that regard, it's a guaranteed success. Yeah, that's what I'll keep telling myself. Next time, we'll explore the group's transition from D&D 4e to Microscope, what we thought of the game, and how that will lead into our Gamma World session. Stay tuned!