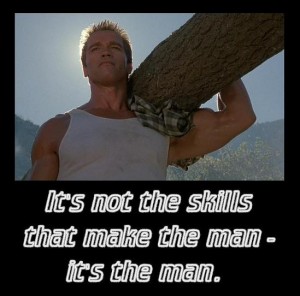 As you've probably noticed, our gaming group's preferred incarnation of the FATE system is Strands of Fate. SoF resembles other Fate games in many respects, but differs in its approach in a couple of ways, ways that I feel improve the Fate experience.
Author's Note: For a comparison of differences, click here.
For me, the difference that really sets SoF apart from it's contemporaries is the lack of a traditional Skill System.  I know what you're thinking – I myself can't believe that my favorite RPG doesn't have a defined, specific skill system clearly showing what my character can do and what he's good at.  For the past 20 years or so I wouldn't even consider playing a game without skills.  But, when I looked at how SoF handles skills, I instantly recognized genius.
Instead of traditional skills or attributes, SoF uses twelve Abilities:

In general, these Abilities will be rated between -1 and 5.  In my experience so far, as both a player and a GM, these twelve Abilities cover everything I could possibly do with my character as well as helping me define a great deal about him.
However, with SoF this is only the beginning.  To really see what a character is good at, or really bad at, we need to take a look at his Aspects (Specialty Aspects in particular).  Aspects tell you so much more about a character's strengths and weaknesses than a skill with a number ever could.  For example, in most Fate games someone good with a gun may have something listed like this:
Ok, that's nice.  I guess the character is better than a guy with +3, but worse than the one with +5.  And I guess he's the same with any type of gun.  In Strands of Fate that character might have an Aspect or two looking like this:
Fastest six-gun in the west.
Born with a rifle in his hand. (Agility)
One shot, one kill. (Perception)
"It's time to rock and roll!" (Agility)
This tells me a lot more than "Firearms: +4" ever could.  This was illustrated for me during the game I recently ran at DunDraCon.  Four of the players at the game were new to Fate.  One guy, after glancing at his character sheet said, "What does my guy do?  What's he good at?"  Before I responded, another player told him to read his character's Aspects (SoF characters have at least ten).  After reading the Aspects, the first guy nodded and said, "I've never had such a clear idea about who my character is, and what my character does.  I even know what he doesn't do. Cool."  That's one of those great "ah-ha" moments.  In SoF, a quick look at well-written Aspects and you usually know more about a character than two pages of background and notes.
Eliminating a traditional skill system has two additional benefits.  First off, players have the ability to focus on roleplaying Aspects, instead of number-crunching.  They look at their characters from a more story-focused and narrative viewpoint than a simple collection of stats and modifiers.  The second benefit, and the one I really appreciate as a GM, is having a very brief list of Abilities to remember instead of a chart of 30 skills.
I play in a Deathwatch game a couple of times a month.  It's a fun game, but there are more than 40 different skills.  As a GM, I want to be familiar with all the skills so that I can ensure they each see a little "screen time" and that the players who've invested in certain skills feel rewarded by seeing them come into play.  In SoF, I only need to remember the twelve Abilities.  If a character has a relevant "skill" (Aspect), it's up to them to remember to Invoke it.
For me, this not only makes adventure design easier, it also really streamlines on-the-fly decisions.  So far, in the SoF games I'm playing in, it's always been very clear what the appropriate Ability to use is, and each of the players know their character well enough to decide if any of their Aspects should come into play.
This is yet another reason why Strands of Fate has become my roleplaying system of choice – a simple but comprehensive mechanic combined with a rock-solid focus on story-telling.